EHS

takes 3rd at league, ready for sub-state on Saturday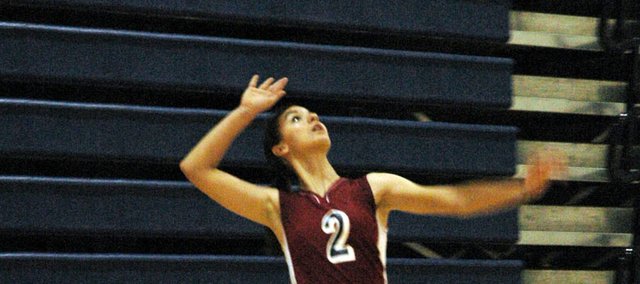 The Eudora volleyball team seemed doomed against Spring Hill Saturday and, consequently, fated to end up in the consolation bracket at the Frontier League volleyball tournament.
But maybe the Cardinals were just trying to add some drama because right when things seemed bleakest, fourth-seeded Eudora rallied for a comfortable victory over Spring Hill.
The Cardinals built on their comeback victory and ended the day with a third-place finish behind Frontier League powers Ottawa and Paola, which finished No. 1 and No. 2, respectively.
The Cardinals needed a victory against Spring Hill to escape pool play and propel themselves into the four-team championship bracket.
But Eudora lost the first set to Spring Hill 19-25. That was bad, but it got even worse: they started the second set down 1-5, a deficit that ballooned to 3-10. Eudora promptly turned things around by reeling off five straight points to pull within two at 8-10. The Cardinals knotted it at 16-16, pulled ahead at 19-18 and took the set 25-20.
Then, to complete the Jekyll and Hyde act, the Cardinals easily won the third and decisive set 25-15. Some added suspense, maybe. But a trip to the championship bracket, nonetheless.
"I thought we were up and down on a roller coaster at times," said Eudora coach Jill Stutler, "But I thought the Spring Hill match was big for us. We knew that pool play would be tough with Paola, but that Spring Hill match was huge."
The Frontier League tournament was divided into two pools, four teams in each pool. In pool play, Eudora was matched with No. 1 Paola, No. 8 Baldwin and No. 5 Spring Hill. The Cardinals opened with a decisive defeat to Paola (14-25, 7-25) before getting past Baldwin (26-24, 23-25, 25-18.)
Spring Hill matched the Cardinals by beating Baldwin and losing to Paola before the two schools faced off in each team's third match. They both knew beforehand that a trip to the championship bracket was on the line, and Eudora ultimately prevailed.
"The girls just made a commitment to defense and playing together as a group instead of a individuals," Stutler said. "That was huge for us."
Whether it was fatigue or simply being overmatched, Eudora couldn't keep rolling in the first game of the championship bracket against No. 2 Ottawa. Ottawa seized a 10-3 edge before pulling ahead 21-6 and winning the first set 25-7. Ottawa was simply the better team and went on to beat Eudora 25-17.
Paola dispatched the other championship-bracket team, No. 7 Gardner, which set up the third place game between Gardner and Eudora.
The Cardinals trailed early but won the first set and rallied to claim the third set and third- place finish.
Eudora hosted a quadrangular Tuesday night with De Soto, Gardner and Santa Fe Trail. Eudora notched wins against De Soto (20-25, 25-23, 25-13) and Santa Fe Trail (25-22, 25-14) but lost to Gardner (12-25, 20-25).
Next up for the Cardinals (21-16) is sub-state Saturday at Eudora. The Cardinals are the No. 3 seed and fans are encouraged to wear white Eudora T-shirts, as the team wants to have a "whiteout" at the tournament.