Kaws take down Cards
Eudora stopped on final drive, falls to 2-5 and 0-1 in district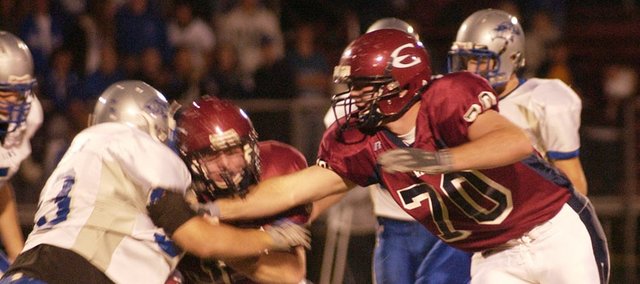 The Eudora Cardinals may have accomplished a rarity Friday night.
The Cardinals scored touchdowns on all but two of their possessions and never punted during the game. And yet, they still lost a 41-33 shootout at home to Perry-Lecompton.
"We just beat the snot out of them, but if we can never stop anybody it becomes very, very difficult and frustrating," Eudora coach Gregg Webb said.
Eudora took the opening possession and marched down the field, going 72 yards in 12 plays on runs by Ryan Fisher and quarterback Evan Cleveland. Fisher capped the drive off with a seven-yard touchdown run, and the Cardinals had the early lead. The drive chewed up almost six minutes off the clock.
But just like it has all season long, the Eudora defense couldn't stop the opposing team's passing attack. Perry-Lecompton senior quarterback Shane Gimzo answered Eudora's drive by connecting on a 65-yard strike to tight end Joel Gantz to tie the score at seven.
Eudora punched back with its ground game, and Fisher scored his second touchdown of the first half on a 14-yard run to the end zone behind big blocks from Eudora's right side of the offensive line, senior Cody Carlson and junior Colton Lynch.
"We schemed really good for them and we felt really good coming into this game," Lynch said. "Some things just don't fall your way. We were able to score tonight, but we just got to stop them on defense."
But Eudora didn't stop the Kaws in the first half. Gimzo was 9-9 passing for 188 yards and three touchdowns in the first half. The Kaws, though, never really beat Eudora deep downfield.
"They threw it under us, which is just as bad," Webb said. "It's kind of frustrating. You would think we would stop one or the other. Last week they throw it over us; this week they throw it under us.
"I knew they would try to do that. So you try to get your kids up in the game. But we're tentative and they're a little nervous about getting beat deep. Usually you can take something away. But we haven't been able to take very much away from any offensive team this year. We have given up way too many points."
Though the Cardinals pass defense was not good, their running game looked like he had all season. In the first half, Ryan Fisher had 23 carries for 120 yards and scored three touchdowns. Fisher benefited from key blocks by Boomer Mays and William Gadberry.
"I love our backfield," Lynch said. "We've got three of the greatest backs in the state right now and we can run it on whomever. But still it's just tough when you can do whatever you want in the running game and still not come up with a win."
In the first half, Perry ran 17 plays for 175 yards and Eudora ran 35 plays for 228 yards, and yet the score was tied at 20 at the break.
In the second half, Eudora stopped the Kaws once, forcing them to punt after Eudora threw an interception in the red zone early in the third quarter. The Kaws scored two more touchdowns in the third and led by a touchdown at the end of three. But Fisher's fourth touchdown run of the night cut the lead to one halfway through the final period.
The Cardinals decided to go for two to take the lead, but Fisher was stopped behind the line of scrimmage after a missed block.
"I wanted to put some pressure on their offense," Webb said. "If you get ahead, then their offense has a little bit of pressure."
Webb said had the Cardinals made the conversion, it could have been uplifting for his team and demoralizing for the Kaws.
"Those are the gambles you take," Webb said. "I just felt like psychologically if we got ahead then maybe that would do something to their psyche a little bit and then crazy things can happen."
But the Kaws marched right down the field and scored again with just more than four minutes to play. The Cardinals, though, never gave up and drove to the Kaws 30-yard line, but Fisher was stopped on a fourth-and-three with 1:50 to play to end Eudora's scoring threat.
Eudora will play its second district game Friday night at Santa Fe Trail.
"That will be a tough game for us," Webb said. "We're a pretty good 2-5 team, but we can't overlook anybody."