Seniors want win on Senior Night
Gardner match rescheduled for 4 p.m. Friday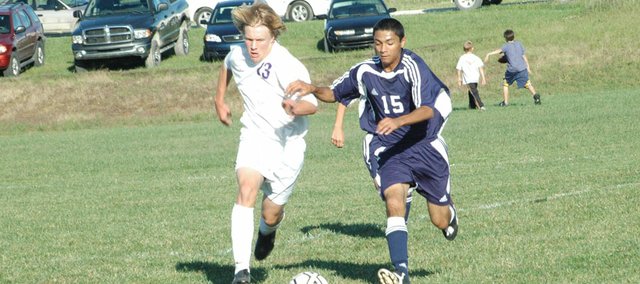 It will be the final home soccer match for six Eudora seniors Thursday night against Perry-Lecompton.
Jackson Wiley, Aslan Hague, Derek Scrimsher, Carlos Canizales, Kayla Chilcoat and Juliana Mejia Mertel will play their last home match. And senior goalkeeper Ben Miller has already played his final match for the Cardinals as he is out for the year after sustaining a late-season knee injury.
Eudora's match with Gardner was cancelled Tuesday night because of bad weather and has been rescheduled for 4 p.m.Friday. The Cardinals have had to endure a disappointing winless season this year but will have another opportunity to put a victory in the win column Thursday.
"It's a tough thing for the seniors," Eudora coach Gunar Harmon said. "A lot of these kids, they haven't picked up the game until a few years ago. We're dealing with players that don't play outside the soccer season.
"We've got two months of experience, but unfortunately none of it positive in the sense of getting the results in the win column. But you've got to give credit to the seniors for sticking through with it. You have to give credit where credit is due.
For Scrimsher, who played goalkeeper last season and has returned to that position to help fill in for Miller, said he was not happy with the team's record but was pleased with the effort his team gave each time on the pitch.
"I'm not really happy with our record or the way we've been playing," he said. "But I can't really ask for anything more because people are out here playing and trying their hardest.
"We're all having fun and it's just the sport I love."
For Aslan Hague, who scored the team's goal against Baldwin, gave credit to fellow senior Jackson Wiley for his efforts this season.
Senior forward Carlos Canizales has been with the program for two years. He said in that time he had improved as a player and became more knowledgeable about the game.
"When I first came in, I didn't know anything about soccer," he said. "But I've learned a lot and being with my friends has been pretty fun. It's been a pretty fun season."
While Miller is out for the season with a dislocated kneecap, he said he would like to have manned his position at the goalie box for Eudora one more time.
"It's been a fun time," Miller said. "I came out my sophomore year as a joke, but I grew to love this sport real fast and I love this team.
"It's just hard to sit here and watch it being played but I loved playing here."
More like this story