Sprinting to the finish
Squads take 4th, 6th at league meet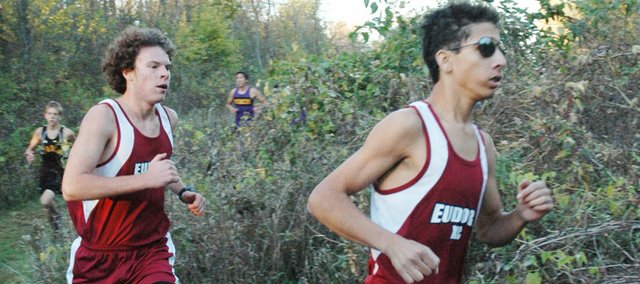 Eudora cross country coach Paul Boone summed up his thoughts on the Cardinals performance at the Frontier League cross country meet last Thursday at Gardner.
"We have one of the toughest leagues in all of the state," Boone said. "It's great; we're not complaining about that. It lets you know where you stand, and our kids don't back down from that."
The Cardinals certainly didn't back down, and the girls ran to a fourth-place finish at the meet and the boys finished sixth overall. Leading the way for Eudora was a pair of sophomore runners, Kaya Riemann for the girls and Ivan Espinosa for the boys.
Riemann finished the girls 4K run 11th overall with a time (and personal best) of 17:10 and Espinosa finished 11th in the boys 5K run at 18:04. For their efforts, Riemann and Espinosa both earned second team All-League selections.
"They are getting to know what it takes to be good," Boone said. "They are determined. They are very goal-oriented. I love their focus. They bring it every day.
"They know when to go hard and when to go easy. And they are such coachable kids and great leaders for the rest of our team, too."
Following Riemann for the Cardinals were three runners who also notched personal best times. JoAnna Male who came in 18th at 18:00, Fernanda Garcia finished in 28th at 19:04 and Johanna Buchner came in one spot back at 19:11. Taylor Johnson came in 31st at 19:34 and Molly Brunton finished 33 rd at 19:45. Male's 18th place finish earned her All-League honorable mention honors.
For the boys, Colby Root came in 23rd at 18:37 for his second fastest time of the season.
"Colby really laid it on the line," Boone said. "The thing about Colby is you always get his best effort. He's hungry. He wants to keep bringing his time down.
"I can't fault his effort at all and I'm really looking forward to seeing what he can do on this regional course."
Nima Jafari came in 11 spots behind Root at 34th with a time of 19:34. Teammate Alex Tacke came in four spots later at 20:09, John Hadle finished 44th at 20:34 and Chase Brecheisen finished 45th at 20:39.
"We got another couple good races in us and we're looking forward to regionals," Boone said.
The regional meet is 3 p.m. Saturday. Following the regional meet, Eudora will conclude its season with a trip to the state meet at Wamego Nov. 1.
More like this story