Soccer season ends with loss at regionals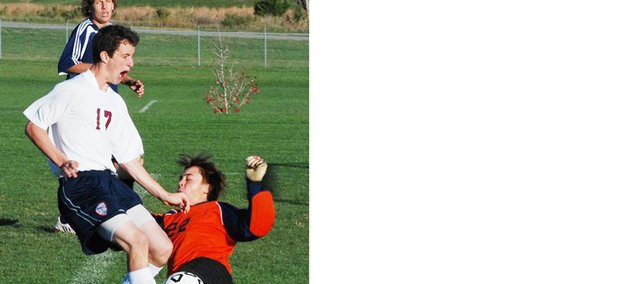 The soccer season at Eudora High School has been full of teaching moments for the youth-laden squad.
Those lessons included fundamentals, tactics and game strategy, but the greatest of those lessons may have been relentlessness.
The Cardinals faced a daunting Class 4A regional first-round opponent in St. James Academy, a squad that was just 3-11 but took its lumps primarily against 5A and 6A opponents like St. Thomas Aquinas, Shawnee Heights and Blue Valley North.
Eudora (0-17) didn't pull off the upset, but it fought through to the final whistle and buried a goal in the closing minutes of a 7-1 loss Monday at Stump Park.
"When you're 0-16, 0-17, everybody's looking for you to find an excuse not to play," Eudora coach Gunar Harmon said. "We've had a couple; they stopped playing. They quit. We lost four players just on a simple choice. These players battled through it. I told them, this is just a game. We want to come off the field healthy, we want to come off the field knowing that we put in our best effort, and we don't quit."
The Cardinals' effort wasn't just acknowledged by their coach. St. James coach Rick Enna also praised their intensity through the final whistle.
"Eudora scored a very nice goal there at the end and you can't take that away from them," Enna said. "They played very well. They were outmatched, but they competed well for 80 minutes and that's what we ask of our team to do when we're outclassed."
St. James carried 13 seniors on its roster, and the experience factor was evident early. The Thunder scored five times in the first half, beginning with a goal by Mike Wieger off of a long cross pass from Andrew Massman in the sixth minute. Six minutes later the lead grew to 2-0 when a St. James kick deflected off of a Eudora defender and caromed into the net. One minute later Massman stole the ball and scored on a breakaway.
Eudora had a handful of scoring opportunities but was unable to convert in the first half. By halftime, St. James extended its lead to 5-0.
"They got on us early," Harmon said. "We were sloppy in the back. We even scored one for them. It took a little bit of the wind out of our sails.
"We had a couple chances here and there and we finally finished one at the end."
Eudora played tougher defense in the second half and limited St. James' scoring opportunities. The Thunder scored goals in the 47th and 69th minutes, but the Cardinals kept fighting and got on the board in the 76th minute on a 20-yard blast by junior Matthew Jump that ducked just under the crossbar.
"All in all, I'm very proud of our team," Harmon said. "We had a lot of uphill problems based on a variety of things that were beyond our control and we battled through it."
Monday's game marked the final game for EHS seniors Jackson Wiley, Derek Scrimsher, Kayla Chilcoat and Juliana Mejia Mertel. Senior Ben Miller also was in attendance but unable to play because of an injury.