Sub-state heartbreak
Volleyball season ends one win from state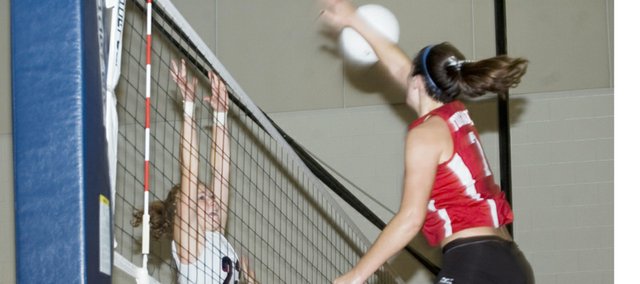 Heading into the championship match of the 4A sub-state volleyball tournament last Saturday, Eudora had a higher seed, a home-court advantage and a 2-0 record this season against opponent Bishop Ward.
But none of that mattered in the end, as Eudora fell to Bishop Ward (26-24, 13-25, 21-25). The loss ended the Cardinals' season.
"We're still trying to deal with the emotions of it," Eudora coach Jill Stutler said. "I mean, you come off such an emotional and hard-fought win against Tongy and we just came up four points short in that third game against Ward and now we all just kind of wonder. That's the best way to put it."
Eudora disposed of Atchison and No. 2 seed Tonganoxie to reach the final.
"We knew Tongy was going to be very difficult to beat and we had to play a great game to win and we did," Stutler said.
Tonganoxie had previously beaten Eudora every time the two teams played this season. Eudora enjoyed a definite home-court advantage Saturday as many fans wore white Eudora T-Shirts and the crowd was energetic all day long.
"During the Tonganoxie match, they were going crazy and when we finally won 25-23 everybody was going nuts," Stutler said.
In the first set of the title match, Eudora fended off a Bishop Ward set-point opportunity before claiming the set with a rousing comeback.
But the Cardinals seemed asleep during the second set. They promptly fell behind 20-7 and never challenged. The third set was close throughout; the score was tied at 10, and Eudora trailed late by just a point at 21-20 before dropping the set.
"The girls, we're proud of them," Stutler said. "They played hard on Saturday and played some of their best ball.
"They left it all out there on the court, and we just kind of ran out of time at the end."
The loss marked the end of the playing careers for seniors Kendal Abel, Tianna Dunnaway and Mariah Webb.
"Our seniors were sad they can't go back to state," Stutler said. "But they've given us so much of their time and effort and we can't thank them enough."
Despite being bounced from sub-state, Eudora still had some successes this season.
In addition to beating sub-state champion Bishop Ward twice, the Cardinals finished in third-place at the Frontier League tournament a few weeks ago and also claimed third-place at the Wellsville Invitational in early October.
"They gave it their all and that's all we ask for," Stutler said.