Super sophomores headed to state
Espinosa, Riemann qualify for Saturday's meet at Wamego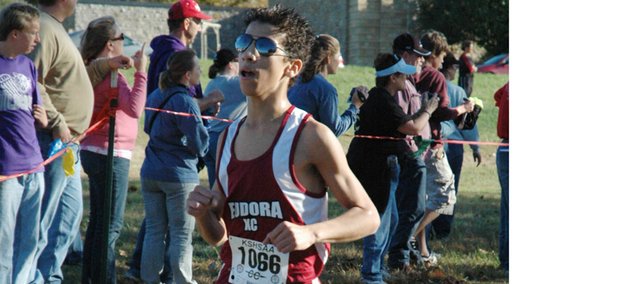 Sophomores Ivan Espinosa and Kaya Riemann battled injuries for much of the season. But both have recovered and qualified for Saturday's state meet at Wamego.
At the regional meet held at Wyandotte County Park last weekend, Espinosa finished ninth overall with a time of 17:55, and Riemann finished 12th for the girls with a time of 17:23 to qualify for state.
"They were excited," Eudora cross country coach Paul Boone said. "They were surprised. They both knew they had to run a good race to get there and they both did. They just really executed what they wanted to do and what they planned to do from the beginning.
"Both of them were really controlled. Anytime you get into a regional race, sometimes kids get pressured and they both just stuck with their plan."
In the girls race, Riemann got out in the top-15 early, then moved up and held her spot. She ran 40 seconds faster this year at regionals than last year. The boys race began on a fast-pace, but Espinosa strategically ran a little behind.
"He did just like he did at league," Boone said. "He held back and held back and with a mile to go he was two places back of being able to qualify and then he just kept moving up."
Rounding out the girls squad JoAnna Male came in 29th at 18:36, Fernanda Garcia 45th at 19:37 and teammates Chelsea Grammer, Johanna Buchner and Taylor Johnson finished 51-53 and Molly Brunton came in 61st.
The girls and boys squads both finished in seventh-place overall at the regional meet, behind Baldwin. Baldwin won first-place in both the girls and boys. Eudora's seventh-place girls finish breaks its five-year streak of having qualified for state.
"If our girls would have all run their best race of the season, we would have qualified," Boone said. "But that's just the way it is. You get an opportunity, we appreciated the opportunity but we didn't take advantage of it this year.
"Our girls had qualified for state five years in a row and this is going to make our gals hungrier."
For the boys squad, Colby Root came in 32nd at 18:57, Nima Jafari came in five spots later at 19:16, John Hadle came in 62nd at 20:24, Alex Tacke finished three spots behind at 20:37. Garret Zook came in 71st and Chase Brecheisen finished 74th at 20:56.
The boys also did not qualify for state as a team, but Boone said he was pleased with their effort this season and that some runners would begin working toward that goal for next season.
"The guys in the next two weeks or three weeks, those guys who make a commitment and get better are going to make it to state next year," Boone said.
With state being the final meet of the season, Boone said it was a great way to end the year. The boys will run at 9:30 a.m. and the girls at 10:30 a.m.
"We are excited," he said. "That's a reward for those kids. For Ivan and Kaya, neither one of them wants to go and just show up.
"We'll give them some real specific goals and they'll have a clear scouting report on who is there. I think both of those kids are ready to go."