Cardinals ready to roll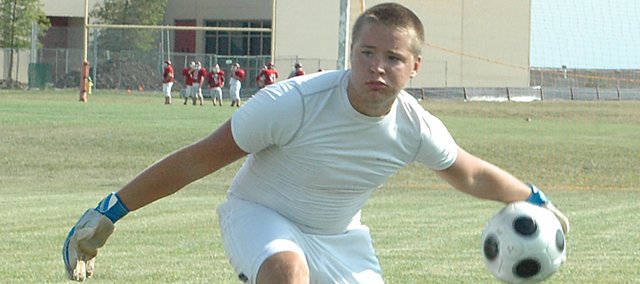 If Eudora soccer coach Gunar Harmon had his way, he would have made a slight modification to the Cardinals early schedule.
"It's not a blessing opening with Ottawa on the road on turf and Louisburg the defending league champs at home," he said.
The match scheduled for Thursday, Sept. 4, will be played at the Ottawa University football field. Because the field is turf the ball will roll faster, and the width of the field is much narrower than a traditional soccer field. These factors make Harmon a little uneasy. In addition, Ottawa has 11 seniors and returns all but three starters from last year's squad.
"We've got a good amount of speed, and we're quick in the back and up top," said Ottawa coach Glen Cahil. "A lot of these guys have played together for a number of years."
Ottawa is led by seniors Tom Peters and Kameron Cole and expects to get some scoring punch from Sean Cahil and Braden Ward. One of Ottawa's strengths is its back row.
"We're an attack team but we're pretty well organized and disciplined," Cahil said. "We try to be as organized as we can in the back. We try to use as much of the field as we can to pass the ball up."
To counter for Ottawa's speed, Harmon has an uncomplicated strategy.
"Keep it simple," he said. "Try to execute what we can regarding our offense and regarding our defense. They were a challenge last year. These players have learned from last to keep communicating and to create team shape."
Of the returning 13 players for the Cardinals, six played varsity and only two of them played significant minutes.
"They're putting it together," Harmon said of his team. "The incoming freshman, it's quite obvious that high school soccer is a new experience for them."
Harmon said that a pleasant surprise on this year's squad was first-year player and midfielder Jackson Wiley who showed good agility and quickness in practice.
Last year Ottawa defeated Eudora, 7-1, in varsity play. But Cahil doesn't expect this game to be easy.
"I expect a bit of a battle - a bit of a challenge," Cahil said. "We'll have to play as disciplined as we can."
Cahil, who coached Ottawa from 1997-2004 and has returned to the helm this season, knows Harmon well and said Harmon had always prepared his teams well.
"I think Gunar's done a fantastic job," Cahil said. "He'll get as much out of his kids regardless of the numbers he has."
Cahil watched all of Ottawa's games last year and has noticed steady improvement from Eudora since its soccer program began.
"I've coached against them several times and I've seen quite a bit of improvement," Cahill said. "I know with Gunar at the helm, I expect them to grow."
And Harmon said that even though the early schedule isn't an easy one, he and the players were eager to begin the season.
"You get tired of beating up on each other in practice," Harmon said. "We're eager to see how they fare against other competition."
The Cardinals home opener is against Louisburg at 4:00 p.m. Sept. 9.