Friday night lights
Quarterback job still up for grabs as Cards prepare for Spring Hill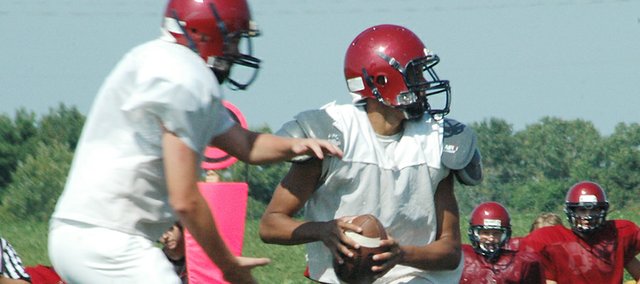 The old adage of taking the good with the bad might be the best way to describe Eudora's annual red-white scrimmage last Saturday.
Eudora had several players missing because of various injuries and the first-team offense played mostly against the second string defense. The offense looked good, as junior Drew Noble and sophomore Christian Richardson split time at quarterback, each of them leading Eudora's offensive attack. Noble completed several passes, and Richardson showed off his running prowess. Richardson said that the competition between himself and Noble was a friendly one.
"It's all good," Richardson said. "Right now we're just working, helping each other get the right plays down and just trying to make the team better."
The competition could remain open for a while.
"We're still figuring it out," Eudora coach Gregg Webb said. "They both have their moments. I mean we still have some mental lapses at that position that we've got to take care of but it's good for them. And we'll keep that going until someone separates them self and they just haven't done that yet.
"Drew's not as quick-a-foot as Christian but Drew has handled the position and he understands it better because he's been in the system two years so he should be ahead of him (Richardson). But we'll keep evaluating."
Meanwhile, Ryan Fisher looked to be in mid-season form as he had two runs that went for more than 40 yards.
"He's a good back," Webb said. "We've got some decent players, and he's definitely one of them. He's probably the best back in our league I would like to think.
"Our offensive line just has to get better and give him a chance because we're going to be playing against some pretty good kids."
The sour note from the scrimmage came when starting linebacker Boomer Mays left with an injury, possibly a broken arm.
"That hurts us," Webb said. "That's big-time trouble for us because he's our best linebacker and a good fullback, too. But kids, coaches, teams, they go on. Injuries are a part of the game. There's nothing you can do about it."
One surprise performance from the scrimmage was from freshman running back Chris Pyle. Pyle, who stands about 5-foot-4, slithered through small holes and showed good quickness to the outside.
"He makes our freshmen way better because sometimes you get a line that makes a back look better and he gets all the credit and there are times when a back can make your line look pretty good. But he's definitely pretty efficient," Webb said.
Eudora will look to play that way when it opens the season at 7 p.m. Friday at Spring Hill. Last year Eudora defeated Spring Hill, 49-14. But Webb said this year's game wouldn't be a cakewalk.
"They'll be good," Webb said. "They'll be a heck of a challenge for us because we've lost some good kids and losing Boomer today, our defense will have their hands full."
In recent years Spring Hill has thrown the ball all over the field, and Webb said he thought that could be the case Friday. This year Spring Hill has 17 seniors, and coach Dave Coopman said his team's strength was in his senior class. All 17 are team captains.
"We have talked about the need for them all to lead and that we don't want to set any one of them above the other," Coopman said.
And Coopman noted that the key for his team was to focus on what they could do well.
"We feel like all we can control is how we play," Coopman said. "We want to play as hard as we can and be focused and hopefully have a shot at the end. In high school football, you can lose and play well and you can also win and play terribly, so you can't put the only focus on wins and losses.
"We could play against a great football team like Eudora usually is and play really well and get beat. All we can control is our teams' effort and attitude. Usually if a team plays hard and has the right attitude, the winning and losing takes care of itself."
And Coopman said that he expected Eudora to be a solid team once again.
"I would be amazed if they aren't a good football team like they always are," Coopman said. "I think coach Webb is a terrific coach. Their kids are physical and always play really hard. They have great football tradition, which is something that we would like to build here at Spring Hill High School.
"As coaches, we try to model our program after the successful programs around you that do things the right way. We feel that Eudora is one of those programs."
More like this story