Tech classes help students plan future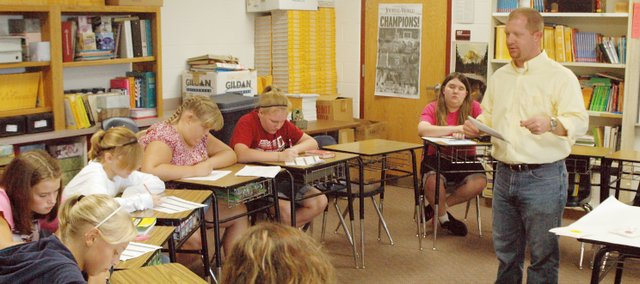 Via its technical education center, Eudora USD 491 long has provided high school students with the opportunity to explore career options that don't always require a degree from a four-year college.
The district has now brought the ability to discover those options to eighth-graders at Eudora Middle School with four exploratory technical education classes.
The classes - centering on health occupations, culinary and hospitality services, agricultural science and auto collision - began this fall at EMS and run for one quarter each.
"The state and the nation both have said that career and technical education is a path that we think we need to develop more than what's been there in the past," said Ron Abel, Eudora High School assistant principal and the Eudora-De Soto Technical Education Center director. "I think it's important for kids to get some exploratory information in advance of them coming to high school and starting to make choices."
The ability to make those choices begins in a student's freshman year and it may be too late to switch into or out of a given class by the time they figure out their interests, Abel said.
"We are really focusing on career options and getting kids to focus a little more in advance on where they want to go and what they want to do," he said. "We can give them a little more direction with these classes at the middle school and they can focus in on what their skill set is in and what they're interested in. Hopefully, we can get those two things to match up."
Culinary arts instructor Jason Gray believes - and Abel concurred - that it's just as important for kids to figure out which career isn't for them as it is to figure which one is.
"In either case, it's really important because of the magnitude of the programs - being that they're two and three years long - for them to be able to get a better idea of what they want or don't want to do as they go into high school."
Gray and health occupations instructor Andrea Pyle both said as the classes progressed, the students have become more and more interested in each of the respective fields.
"Every one of the students seems engaged," Pyle said. "So if you can catch them at this age - especially kids who maybe don't have the encouragement at home - you can encourage them that these jobs are out there and possible. That's what I think we should be helping with."
Eudora Middle School Principal Richard Proffitt said the classes were another example of how the district worked to diversify the learning opportunities for its students.
"In everything that we do, we want students to find some meaning and be lifelong learners," Proffitt said. "Even if it's not something they want to do for the remaining years of their life, at least they're exposed to it and they know those skills and they're getting a more well-rounded education because of it."
Students won't actually learn how to cook an omelet in Gray's class. Nor will they learn how to perform a tracheotomy in Pyle's class. They are, however, learning about the path they'll need to take if they want to pursue those interests.
Students also are learning about typical salaries and work hours associated with someone who is in those positions.
Kelly Daigh, an eighth-grader who is in both Gray's and Pyle's classes, said what attracted her to each class was that she saw both fields as possibilities for her future.
She said being able to have the options to take the classes made her school day less than typical.
"I like the idea of doing culinary arts and I like health careers because I've always been interested in being a nurse or a pediatrician," Daigh said. "It's been kind of exciting."
Daigh said she was not leaning toward one profession or the other at this early point in not just the school year but also her life. And that suits Gray just fine.
"I don't care if they go into this industry or not," Gray said. "But if they know a little bit more about themselves and what they want to do, then I think it's been a huge success."
More like this story