Twelfth man club helps with costs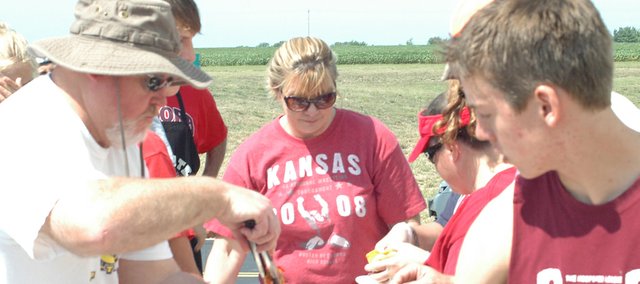 At each home football game, the banners on the fence represent more than advertisements. They represent a commitment to supporting the Eudora football team.
Last Saturday after Eudora's annual football scrimmage, players, coaches and family members from the football and volleyball teams enjoyed a cookout sponsored by the Cardinals 12th Man Club. David Alvarez, a 12th Man Club member, helped grill burgers for the cookout.
"It's not a big rah-rah organization or anything like that," Alvarez said. "We're just kind of behind the scenes to provide stuff for the team. There are a lot of guys that help out with it just in small ways."
The Cardinal 12th Man Club is a booster organization of local business people who donate funds to help the Cardinals football team. The booster club's assistance includes providing the team each week with pre-game meals such as chicken or spaghetti. The organization also helps pay for equipment such as helmets, bags and socks. It also provides scrapbooks for the team and sponsors an end of the year awards banquet.
"It's a good thing for the boys," Alvarez said. "It gives them that support that they can see that the community cares, and I think that helps. It's good for them."
Eudora High School athletic director Dave Durkin said that the athletic department didn't have enough money to help fund all the teams fully but groups similar to the 12th Man Club help raise money for other sports.
The 12th Man Club has three different levels of sponsorship: Gold, silver and bronze. The colors represents donations of $250 (which is the most popular), $500 and $1,000, Alvarez said.
"Sometimes it's easy to give, and sometimes it's not," Alvarez said. "We're just there for the team."
Part of a business' first-year donation is used to purchase its banner and that fee is dropped for those businesses that stay in the organization a second year.
Club members can receive gate passes, T-shirts and other items. The club also sells shirts and hats to raise funds for the team. In addition, the club also has a pre-game tailgate before each game both home and away.
"The thing about Eudora tailgating is what's good about our crowd is that we have one set of grills and the whole community is there in one spot," Alvarez said.
And having strong support from the community is something Eudora coach Gregg Webb appreciates.
"It's a great deal," Webb said. "They do way more behind the scenes than the people realize, and the coaches and players really appreciate it."
Eudora sophomore Christian Richardson has taken part in many 12th Man Club sponsored activities, and he said was looking forward to getting more free food and gifts again this year.
"That's great. We get a nice meal before Friday night and there's a lot of cool stuff we can get. It's a nice thing and I'm glad to have it." Richardson said.
And Alvarez said that the Eudora football team and its fans could expect the 12th Man Club to continue providing support for many years to come.
"As long as there's football in Eudora I think there's always going to be a 12th Man now," Alvarez said.