Volleyball pounds way through quadrangular at Bonner Springs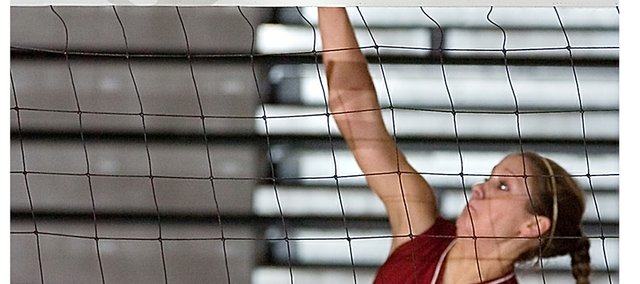 The Eudora Cardinals volleyball team opened its season on a high note Tuesday night at the Bonner Springs quad by winning all three of its matches. The young team has only two returning varsity letter winners. Youth played a factor in them having to battle keeping their focus and intensity, but they managed to pull through in each match.
They defeated Basehor-Linwood, Baldwin and Bonner.
In the match against Basehor the Cardinals lost the first game 25-23. As the score got closer, Eudora's youth showed. The next game they jumped out to a 14-1 lead by capitalizing on a hole they found in Basehor's deep middle, and cruised to victory. In the deciding game they battled back and forth with the Bobcats and came up victorious, 25-23.
Head coach Jill Stutler wanted to see how her team would react to playing its first match, and how they would react to the nerves they experienced. She was happy with the effort against Basehor and thought that the confidence level of her squad rose as the evening wore on.
They faced Baldwin next and cruised to victory in the first game 25-14. They then fell in a deep hole in the second game and almost managed to take the game, but lost 25-23. As they faced defeat in the third game, the Cardinals responded again by winning 25-14 to take the match.
"I was really pleased with the way we battled against Baldwin and Basehor tonight. It took all the pressure off and they were able to relax," said Stutler. "We were able to just take a whole different approach into the Bonner match."
The relaxed approach helped as Eudora smashed Bonner 25-12, and 25-7 to win the third match of the night.
"That was a good way to finish the night," Stutler said. "They were loose and that is the way they are going to have to stay for the rest of the season. We are a young team and it's still early. Every play is a learning experience and the intensity level will only rise in the upcoming weeks."
The next learning experience for the Cardinals is Thursday, Sept. 11, at Eudora High. They play host to Perry-Lecompton and Bishop Ward. The action starts at 5 p.m.
Basehor-Linwood went 2-1, Bonner Springs finished 1-2, and Baldwin went 0-3 for the night.