Cards come up short in opener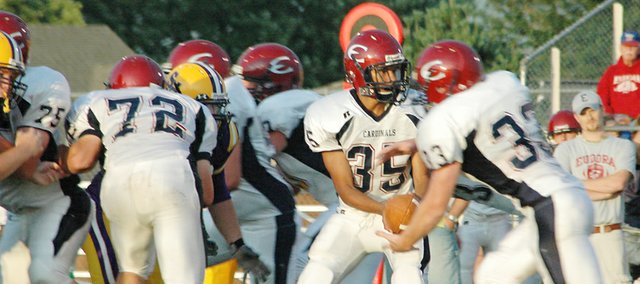 Committing five turnovers in a game is never a good recipe for success and that proved to be the case for Eudora Friday night.
Three first half lost fumbles by Eudora and two late turnovers in the second half spelled doom for the Cardinals as they lost, 14-13, to Spring Hill.
Two muffed snaps to quarterback Christian Richardson gave Spring Hill good field position in the first quarter but Eudora's defense held strong until Richardson was beat on a hail-mary touchdown throw late in the second quarter.
But Eudora's defense set the tone early in the second half when tackle Coddy Potter broke lose and blocked a Spring Hill punt. With momentum on its side, Eudora rode the legs of Ryan Fisher to two consecutive touchdowns in the third quarter. In the fourth quarter Fisher continued gashing the Broncos' defense. Fisher had 33 carries for 204 yards and two touchdowns and almost a third. Late in the fourth Fisher toted the ball across the goal for another score, but the ball came lose in the end zone and Spring Hill recovered. The ruling was a fumble and Spring Hill went 80 yards, finishing the drive off with a 36-yard touchdown bomb to James Beard to seal the loss for Eudora. Read the full story in Thursday's Eudora News.