Storm damages farmsteads southeast of Eudora
Hesper area hit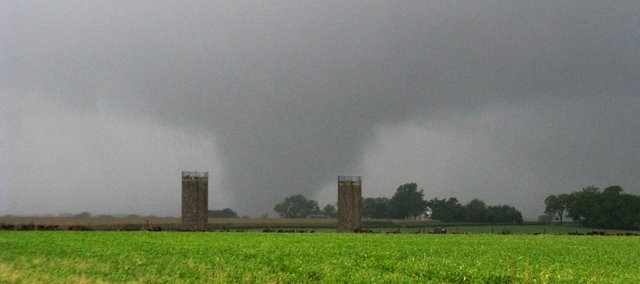 A out-of-season severe weather outbreak Friday spawned funnels that caused damage in both De Soto and Eudora.
The damage in Eudora occurred on 23300 Road about 3 miles south and a mile east of the intersection of Kansas Highway 10 and Douglas County 1061.
An employee at the Eudora Post Office, Michelle Gabriel said she called her teenage daughter Lacey shortly after 4:30 in the afternoon to urge her to take shelter.
"My mom said to take shelter," Lacey said. "I was running to the Quonset when I looked out and saw it spinning."
Lacey was unharmed as were the farmstead's dogs, horses and livestock.
"The house in fine," Michelle said. "Two barns are down. Our big barn and another one are leaning pretty bad. They'll probably have to come down. It was one of those good old barns that had been through everything."
There was worse damage at a home immediately to the west owned by Mark and Janet Gabriel and rented to Jimmy Grems. Janet Gabriel said the two-story house had lost all its windows and was uninhabitable Friday evening. A barn on the property was also blown down.
Neightors Ben and Jan Delgado also lost a barn, Michelle said.
Among the damaged structures in De Soto was the restored barn at Zimmerman's Kill Creek Farm at the intersection of K-10 and Kill Creek Road.
De Soto Fire Chief Kevin Ritter said several interior beams in the barn where broken. The barn, disassembled from an original location south of De Soto and renovated on the Kill Creek Site, was a popular site for anniversary, reunions, wedding receptions and civic gatherings.
The funnel stayed on a northeastern track from the Zimmerman Farm, bringing down an outbuilding at 87th and Waverly and causing significant roof damage to a home on Brome Road, Ritter said.
An outbuilding was also down on Corliss Road near Ric-Mar, Ritter said. Before leaving the De Soto area, the funnel broke a power pole and brought down power lines near 82000 and Gardner Road, he said. That area and the area near Corliss and Ric-Mar were without power, he said.
The storm caused the postponement of Eudora's home opening football game against De Soto. That game has been rescheduled for 7 p.m. Monday at Laws Field in Eudora.