Cards earn split at home opener
Eudora now 4-1 in early season play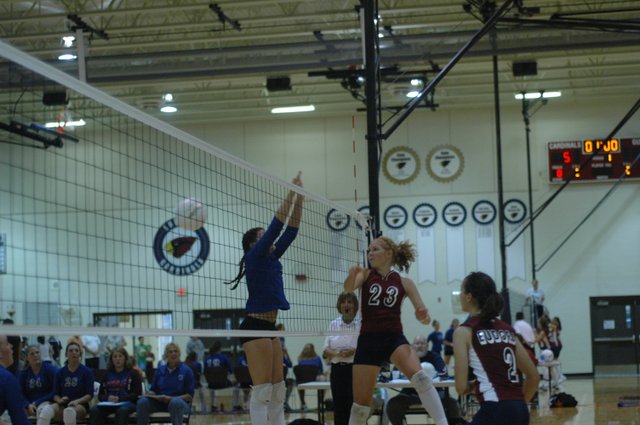 Thursday night's home debut started and ended just how Eudora wanted it to. The Cardinals won their first match and their last game of the night. But in between, they struggled a bit.
After defeating Perry Lecompton 25-11 in the first match, Eudora lost the next two matches (15-25, 22-25). The Cardinals then bounced back and beat Bishop Ward (25-15, 25-17) to end the night at 1-1.
Following the loss to Perry Lecompton, the Cardinals (4-1) had a little more than an hour break until their next game. During that time they headed to the locker room to regroup. "We did some soul-searching after Perry," Eudora coach Jill Stutler said.
One of the things that Stutler saw her team doing poorly was not moving their feet enough to get to the ball. She also questioned their team's intensity during the first game. Eudora senior outside hitter Kendal Abel also saw the same things and spoke to the team.
"I challenged them to have the desire to win and to step it up," she said. "We went out there the second game wanting to dominate."
Her teammates got the message and the Cardinals jumped out to an early 9-5 lead on Bishop Ward in the first match. From that point on, Abel led the way with four more kills. Freshman teammate Morgan Wiley contributed two kills and several digs in the late going. Fellow freshman teammate Jennifer Bowser also had a solid night.
"They're coming along fine," Stutler said of her two freshmen playing on the varsity squad. "They're progressing well."
In the second match against Bishop Ward, the Cardinals struggled early as they again looked sluggish moving their feet and found themselves trailing 0-6.
"We were down behind and when you're down behind you can get worried and start feeling a little scared," Abel said.
The Cardinals called timeout, and with better foot movement, two consecutive serving aces from senior Mariah Webb, a kill and an ace from Bowser, the Cardinals soon tied the score at seven. From there, with momentum on its side, the Cardinals didn't look back and rallied for a 25-17 victory.
"We challenged our team, and they responded well," Stutler said.
Eudora's next challenge will be a tri with West Franklin and Wellsville Sept. 18 at Wellsville. And Stutler said her team would have to move their better than they did last week in order to win.
"That's going to be a challenge for us," she said. "Both teams are quick."
And Abel concurred.
"They both play at a faster pace than what we've seen," Abel said. "So it'll be interesting to see what becomes of it."
After Wellsville, the Cardinals will play at 5 p.m. Sept. 23 at Ottawa.
More like this story