EHS

teacher named to executive council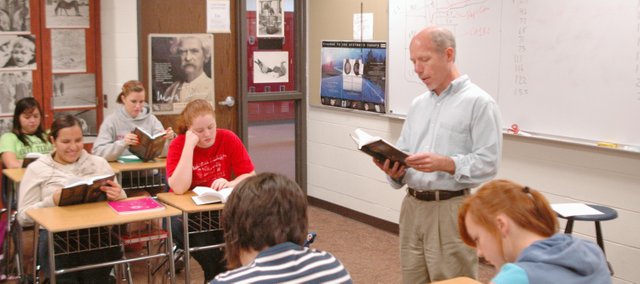 Eudora High School English teacher Matt Bova has been named to the executive council of the Kansas Association of Teachers of English.
He'll serve a three-year term in the affiliate of the National Council of Teachers of English.
"I'm really excited about it," Bova said. "I like watching how large organizational structures operate. I think that's just fascinating - the attempt to formulate and state a set of values and then figure out how we get those values to operate in practical terms to meet the needs of the people who are working in the field."
Bova, who has been teaching for
23 years, will serve as an editor for the Kansas English Journal, which KATE publishes twice each year. The journal features discussion of new methods, reviews of new literature, research, reflective pieces and interviews, as well as creative writing and poetry.
Each issue of the journal will focus on a series of themes, covering a number of issues. Teachers will submit pieces, and Bova and the other editors will select those that are appropriate for the journal.
One of the types of pieces Bova would advocate for the journal is those in which teachers reflect upon their experiences.
"First of all, it's (reflections) something that people like to read," Bova said. "People generally enjoy firsthand accounts of wrestling with your working life and I think there are a lot of stories to be told. And there are a lot of good storytellers in the state of Kansas who with some encouragement would say, 'I can do that, I've got some perspective here.'"
Eudora Superintendent Don Grosdidier said reflection was one of Bova's main strengths and that his work with KATE would not only improve the teaching abilities of other teachers throughout the state, but also those of Bova.
"Matt has a gift for not only teaching, but also being able to articulate to others the meaning of the art of teaching," Grosdidier said. "That's good from the standpoint that one of the best ways to learn is to teach. If he has to make presentations to other groups of teachers, it causes him to reflect a great deal on his practice and good things come out of that."
Bova was nominated for the position by on of KATE's board officers.
Though Bova humbly joked that the way he won the election was he and the one other person who actually took part in it voted for him, he clearly is was excited about working with the organization
"The people who I've met that serve on KATE are really energized people who are engaged with all the issues that bear on teaching English in Kansas," Bova said. "The whole mesh between idealism on the one hand and living life on the other - there are so many areas where that goes awry and I find that interesting."