Council considers speed limit increase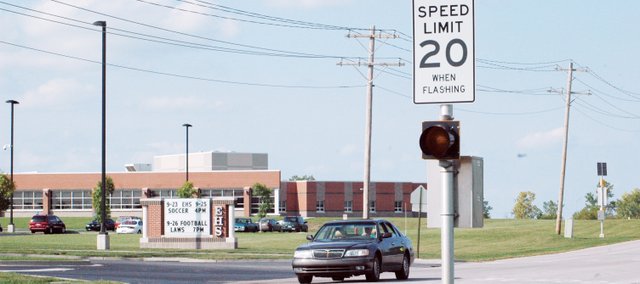 The Eudora City Council put the brakes on a proposal to increase the speed limit on Douglas County Road 1061 in front of Eudora Middle School.
Complicating the issue on Monday's council agenda is the fact Eudora only controls the west half of the road and not the eastern northbound lane, which is in county jurisdiction. The council also requested approval to annex the east half of 1061 from 23rd to 28th streets to further clarify city boundaries.
Eudora City Administrator Cheryl Beatty said the cost of doing so would be about $1,000.
The area in question is directly in front of Eudora Middle School. Eudora Superintendent Don Grosdidier, who spoke on behalf of the USD 491 Board of Education, attended the meeting and opposed the increased speed limit.
The impetus for raising the speed limit was a Douglas County funded traffic study that determined the appropriate speed limit should be 35 mph. The current speed limit is 30 mph.
Eudora's city engineer, Jason Hoskinson of BG Consultants, agreed with the county's conclusions.
Grosdidier cited research that most vehicles travel about 5 to 8 mph faster than a given posted speed limit. His argument was supported by comments made in an email sent from Hoskinson to Beatty, which said traffic already traveled at 35 mph through the area. However, Hoskinson also wrote that research and engineering principles used in traffic studies "would point us in the direction to believe that we are only changing the speed limit sign and not the actual conditions of traffic."
Upon hearing Grosdidier's concerns, council members Lori Fritzel and Jeff Peterson asked if it was possible to increase the length of the current school zone, which covers a section of 1061 in front of Eudora High School that is smaller than one-tenth of a mile.
Grosdidier said it was something he and the board would look into.
Mayor Tom Pyle said $1,000 to annex the area was a small price to pay to take control of the stretch of highway and ensure that the speed limit would not be increased.
The issue was tabled until the next city council meeting so that all parties can gather more information and possibly come to an agreement
"I feel good about the fact that it has been tabled and look forward to the opportunity to work with the city and the county on the issue," Grosdidier said. "And I understand the complication of who has ownership gives to the issue, but that does not take away from the fact that the board of education feels a
30 mph speed limit is a safe and prudent speed. Our concern always will be, first and foremost, the safety of our students."