Eudora couple building boats for Coast Guard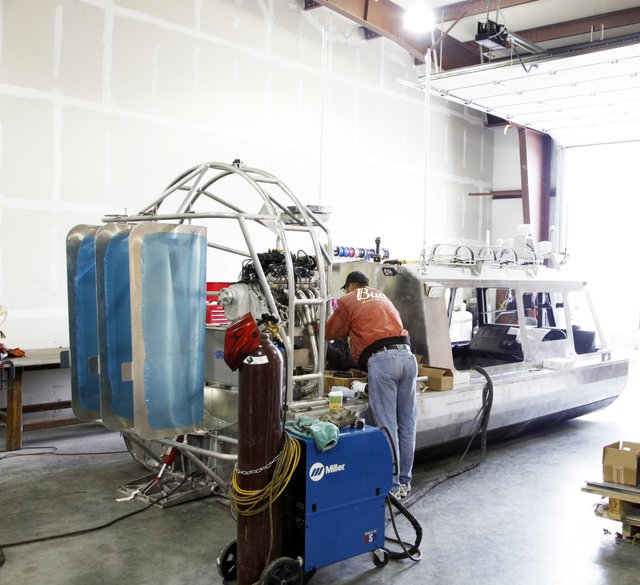 When she orders parts for the Midwest Rescue Airboat company she and her husband, Matt, own, Cathy Cain said she often gets the same response.
"They say, 'You're building what where?'" Cathy said. "We get that a lot.
"People associate airboats with Florida, Louisiana and Texas. They can't believe we're building airboats in Kansas."
That's just one of the misconceptions the couple have fought as they sought to market their rescue boats with reinforced aluminum, polymer-coated hulls, closed decks and cabins. Matt said the company also had to overcome the image of airboats that prowl the Everglades and wetlands of the South. Those boats are basically modified open-decked john boats, he said.
"I don't consider we have competition, because everybody else builds pleasure boats," Matt said. "We just want to build rescue airboats for the government or fire departments."
Their rescue boats have been changing perceptions since the Cains entered one in a Coast Guard sponsored demonstration on Michigan's Saginaw River in 2006. That led to order from a Michigan fire department.
"The last boat we sold was to the fire department in Grosse Ile, Michigan," Matt said. "The boat performed flawlessly. At the same time, Homeland Security starting searching for the next generation of rescue craft."
That search and the performance of the fire department airboat resulted late last year in a contract to build 35 airboats for the Coast Guard in the next five years. The first of seven boats to be built this year is readay for water trials and will be shipped Friday.
"I can't wait to test it," said Joe Hutto, who with fellow Coast Guard retiree Lloyd Wherry is sub-contracting to install the sophisticated electronics in the airboats. "I was a Coast Guard caption, but I didn't pilot airboats. I've ridden on airboats, but I've never seen one with a steering wheel or a cabin.
"But it's a very practical application. They should have had these at Katrina."
Although the airboats, which can be shipped in a container to wherever they are needed, may someday help in hurricane rescue, they are being built for ice rescue on the Great Lakes. Their reinforced aluminum 22-foot-long hulls can break through ice and withstand the pressure as broken ice "channels" against the side. Their enclosed decks will keep them afloat in 4-foot waves with the crew of seven comfortable in an enclosed cabin sitting on air-suspension chairs Hutto and Wherry will also install.
When not crashing through the ice, the airboats can skim over frozen lakes, snowmud, or even wet vegetation, Matt said. The 525-horsepower motor can push the airboat through open water to a rescue site up to 10 miles offshore at a top speed of 40 to 50 mph.
The airboats are the result of a lifetime spent on the water and boat building.
Matt grew up on the Kansas River in north Lawrence in a family devoted to fishing, boating and other water sports. As a young adult, he moved to Virginia, where he worked in the shipyards building aircraft carriers and submarines. After the Cains returned to Kansas in 1991, he started building airboats for use on the Kansas River. Eventually, he started making aluminum boats for his own use and for commercial customers.
When showing the commercial boats at shows with his personal airboat with its enclosed cabin in tow, people told him he should build boats like it for emergency crews.
"That's when I realized we had something unique," he said.
With the encouragement, Matt and Cathy started building commercial airboats out of a shop in DeSoto, including the rescue craft built in 2007 for the Grosse Ile Fire Department.
Soon after that boat was delivered, Matt started an 18-month effort to upgrade the fire department airboat design to meet Coast Guard specifications.
During that time, the Eudora couple relocated the production to Lawrence and set about the task of arranging financing to acquire a press brake, a new CAD design system that programs a new plasma cutter.
The couple eventually secured a loan from Kaw Valley State Bank. But the Cains said Tim Metz of Douglas County Bank helped with the extensive paperwork for a Small Business Administration loan despite not being able to be involved in the loan.
As he toured the Cains' plant last Thursday and looked over the first of the 35 airboats, Ryan Lorentz, a commercial loan officer for Kaw Valley Bank, said he didn't realize how elaborate the boats were.
"When you think of airboats you think of three people on seats with a control stick," he said. "It's kind of unique to have somebody building an airboat in Kansas. They are pretty creative people."
With the needed equipment in place, the Cains started building the first Coast Guard boat in mid-January.
The Coast Guard contract allows the company 120 days to deliver a boat with the next boat due 18 days later, Matt said. But the Coast Guard later amended the schedule for the first boat in the contract, he said.
"The Coast Guard upped the schedule 30 days," Matt said. "They wanted to put it into use while there was still ice on the lake.
"They really make us scoot along. Cathy and I had to work a lot of 16 or 18 hour days."
The couple also learned there were more regulations and documentation required of the Coast Guard boats.
"The fire departments rely on us to know what we use," Cathy said. "The government wants everything documented.
"If three years down the road the hull fails, we have to be able to find where the metal came from."
The Cains have orders for three fire department rescue craft this year in addition to the seven Coast Guard airboats. To accommodate their growing production, they have expanded their 4,000 square-foot shop by taking over 3,000 square-foot next door for warehouse space.
The Cains expect more orders. They are fielding inquires from multiple departments along the Great Lakes, the U.S. Border Patrol and the British Coast Guard, and Matt is considering modifying the current Coast Guard design to fit other needs.
"I want to take the same boat we have here and put jet drives on it to go after what the Coast Guard calls shallow-water boats," Matt said. "This platform would work very good for that."
In addition to sub-contractors Hutto and Wherry, the Cains currently employee two full-time certified welders, James Webb and Terry Vawter and a part-time CAD programmer. Matt's brother Michael Cain, an engineer, is writing the manuals the Coast Guard requires.
"We put everything we had into this," Matt said, as he placed his arm around Vicky's shoulders. "We're a team. I handle the technical side of it, and she handles the administrative side. She does all the bookkeeping, ordering and payroll."
The Cains insist they want to remain small and maintain close relationships with employees and customers. But they said they were prepared to go where business took them.
"We hope to stay small because we like the one-on-one," Cathy said. "But if we have to get bigger, we'll do it."
More like this story