Mayoral forum accents contrasts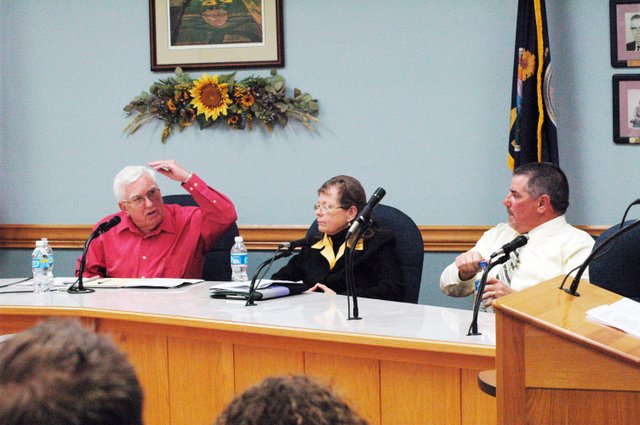 Candidates for mayor of Eudora Tom Pyle, Scott Hopson and Jean Farmer differed greatly on just about every issue during Thursday's candidate forum.
The Eudora Chamber of Commerce sponsored the forum, which was moderated by Chamber President Amy Durkin.
Pyle, 79, is the owner of Pyle Meat. He has also served four terms on the city council and has lived in Eudora for about 50 years. He said this will be the last time he ran for city office.
Hopson, 46, is a journeyman lineman for Kansas Power and Light. He also is a former Eudora City Council member. Hopson has lived in Eudora for 35 years.
Farmer, 57, is a cashier at Casey's General Store and a property manager at Pinecrest III
She has lived in Eudora for about 20 years.
The mayor of Eudora serves a term of four years and recommends the appointment of department heads, of which the Eudora City Council has the final say. The mayor doesn't have a vote on the council except in the event of a tie.
About 50 people attended the forum and candidates were given three minutes to answer each question.
Durkin first asked candidates if they wished to see continued growth and how they planned to make sure infrastructure supported that growth.
Pyle said he supported growth and would continue to work with department heads and the city administrator to make good decisions, but it's largely up to the council.
Farmer wanted growth but said she didn't know much about infrastructure so she would study up on it.
Hopson said he wanted growth, but that adding to infrastructure isn't possible right now and the city was now living beyond its means.
The next question dealt with how the candidates would keep emergency services funded despite budget constraints.
Farmer said grants should be looked into before spending city money, but Hopson said grants take too long to acquire so the city should just be smart with its money.
In one of the few times the two men agreed, Hopson and Pyle both said they wanted to be able to keep the mill levy flat and still fund many city services, but that it might not be possible this year.
Pyle reiterated that it would ultimately be up to the council.
But the theme of differences got right back on track when Durkin asked whether the candidates approved of the city's governmental structure, which is dictated by the population size.
Pyle said he supported the structure because no council member could give the time it takes to do what a city administrator does.
Farmer said the council and mayor need to talk with people throughout the town before making decisions.
Hopson said the city administrator should work on issues such as economic development and planning, but he supported the department heads and departmental personnel issues should be left up to them.
If elected, Hopson said the first thing he would do was restore faith in city government by involving citizens in decisions.
Pyle said his door would remain open, and he also would ask for community input.
Farmer said she would investigate the city's problems and listen to what the people want.
Polls will be open from 7 a.m. to 7 p.m. Tuesday.
More like this story