Raising the bar
Girls place 4th, boys 5th at Baldwin Invitational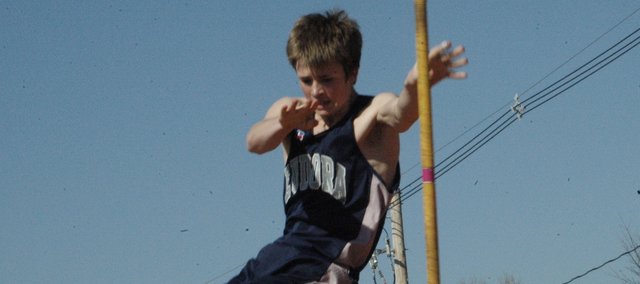 Photo Gallery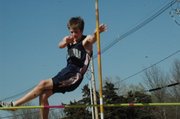 Baldwin Invitational
The Eudora girls track team placed fourth Friday at the Baldwin Invitational and the EHS boys placed fifth.
In Eudora's second track meet of the year Friday at the Baldwin Invitational, coach Phil Katzenmeier saw plenty of individual improvement from both the boys and girls teams.
The Eudora girls finished in fourth and the boys came in fifth, respectively, out of 13 teams at the meet.
"We showed a lot of improvement from Tuesday and better weather conditions helped," Katzenmeier said. "We had some really nice efforts in several events. It has been a short season for the girls basketball players with very few workouts under our belt, but we will get better."
While the girls who were on the basketball team were a little behind practice-wise, some of those girls look to be in mid-season form already.
Senior Kendal Abel took third in the javelin with a throw of 104-feet-4 inches, and senior Mariah Webb took seventh with a throw of 92-10. Abel also took fourth in long jump and sixth in triple jump. Eudora's 4x100-meter relay team of Abel, Alisha Wingebach, Tianna Dunnaway and Rachel Pyle finished second with a time of 52.93. Wingebach also finished third in the 100-meter dash with a time of 13.09.
Sophomore Shea Lounsbury took second in triple jump with a leap of 32-1/2, eighth in high jump at 4-4 and sixth in the 200-meter dash. Allison Hoover took first in pole vault by clearing 10 feet. JoAnna Male took fifth in the steeple chase and seventh in the 300-hurdles, the 4x800 relay team took fifth, and sophomore Kaya Riemann took third in the 800-meter run with a time of 2:35.01.
For the Eudora boys, Justin Ballock set the school record in the high hurdles with a time of 15.38 and finished second in the race overall. Last weekat Wellsville, Ballock also set the school record in the 300-hurdles.
Ballock also finished first in the 300 hurdles with a time of 41.39 and seventh in the long jump with a leap of 19-10 1/2.
Eudora senior Cody Carlson took first in shot put with a throw of 43-7. Fellow senior Ben Katzenmeier took second in javelin with a throw of 172.
Sophomores Christian Richardson took second in the triple jump at 40-4, and Ivan Espinosa took third in the Steeple Chase at 7:23.07. In the 100-meter dash Mike White was seventh with a time of 11.56. The 4x100 relay team of White, Ryan Fisher, Ryan Mendel, and Brian Katzfey took sixth at 46.45. Carlos Canizales took seventh in the 800 and the 4x400 relay team placed sixth.
The Baldwin girls and De Soto boys teams took first-place overall. Katzenmeier said he was pleased with his two teams placing in the top five.
"At this point, we're starting to get our feet wet a little bit and we feel like we know what we want to do," Katzenmeier said. "It's just a matter of getting some decent workouts in and getting the opportunity to have some good weather to compete in."
Next up for the Eudora track team is a meet Thursday at Paola. Katzenmeier said Eudora hadn't gone to the Paola meet in the past, but said it could be as strong as the Baldwin meet.
"I'm not sure at Paola where the strength is going to be," he said. "There are a couple of schools from Missouri and this will be the only time we'll see them. So it'll be kind of new for us."