Boys' bats silenced in
GEHS

sweep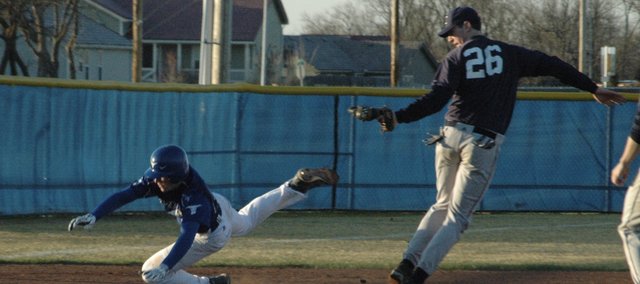 It's pretty hard to win games when you don't score a run in 14 innings. The Eudora Cardinals found that out Friday at Gardner as the Trailblazers swept Eudora, 4-0 and 7-0 in a doubleheader.
"That's a good 5A team," coach Shaun Edmondson said. "They did a nice job. They are well coached and they just beat us today. It's one of those days. Anytime you get swept in a doubleheader, obviously it doesn't feel good. But we're just going to approach it as a learning lesson and move on. That's all you can do at this point. They had two velocity arms and anytime you see velocity it's going to expose some of your flaws offensively, and we're just a little behind offensively right now."
In game one, Gardner's all-state athlete Bubba Starling pitched a complete game shutout on 123 pitches. Starling also hit a home run off Eudora starter Michael Bricker early in the contest.
Gardner's game two starter, Austin Williams also kept the Cardinals' bats quiet.
"We just weren't seeing it very well," said second baseman Evan Cleveland. "Our approach wasn't very well offensively. Their pitchers were throwing pretty straight, and we just didn't make contact."
Lefty Bryan Dudley started the second game and gave up three runs in the first inning before settling down. Dudley bounced back in the second inning and struck out the side.
"Defensively I thought we did a nice job and pitching-wise I thought we did a nice job," Edmondson said. "So two out of three we did well."
Eudora played Paola in a doubleheader on Tuesday night and lost the first game, 6-1, and won the second game 16-6.
More like this story