Hopson wins mayoral race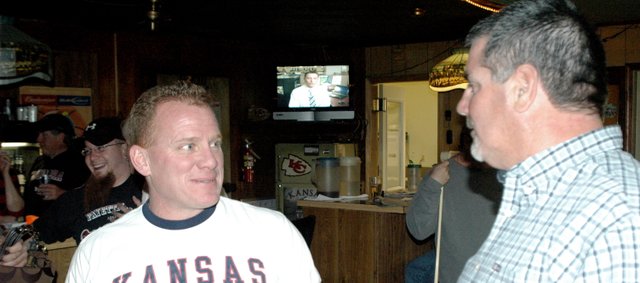 Scott Hopson unseated incumbent mayor of Eudora Tom Pyle by nearly 200 votes Tuesday, garnering 464 votes compared to 277 votes for Pyle. Jean Farmer finished with 46 votes.
"I didn't do this without a lot of help, and I'm very appreciative of everything everyone has done for me," Hopson said.
Hopson said the first thing he planned to do was sit down with all city personnel and ask them what three things they would like to see changed. He said he would also do the same thing with each department head.
Hopson understands that anything he recommends must be approved by the city council, but he said there was another important party who he hoped to involve in his decisions.
"I have to work with the council, but the citizens are in this with us," Hopson said.
Bill Whitten and Tim Reazin won the two open seats on the Eudora City Council. Whitten, the incumbent, received 392 votes, while Reazin received 381.
Mike Warner came in third with 339 votes, followed by Tonya Summers with 154 and Brian Nyp with 123.
"I look forward to working with Mr. Reazin," Whitten said. "I know two council members can't talk (alone), but I'd be more than willing to get together some study sessions so that we can get him up to speed."
Though Reazin was disappointed with the voter turnout — just 925 of 3,817 registered voters went to the polls — he was pleased with the results.
"I'm excited. I'm looking forward to getting to work and doing some research in order to make good decisions," Reazin said.
The three new members elected to the Eudora USD 491 Board of Education were Mike Kelso, with 403 votes; Eric Votaw with 394 votes; and Keith Nowland, with 390 votes.
Dr. Dan Dickerson came in fourth place with 348 votes and Mike Howard was fifth with 323 votes.
Both Votaw and Kelso congratulated all of the candidates and took solace that no matter the outcome, the level of quality candidates ensured those who won would be qualified.
"I don't want to sound cliché, but I'm ready to get to work," Kelso said.
Votaw also realized the hurdles his new position will bring as a result of budget woes.
"We've got a challenging road ahead of us, but I'm excited," he said.
All results will be made official Friday when county commissioners canvass the votes. City officials likely will be sworn in at Monday's city council meeting.
Those elected to the board of education will take their positions at the first meeting of the fiscal year, which will be July 9.