Becker to wrestle at Baker University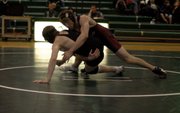 With the stroke of a pen, and four years of hard work, senior Ethan Becker became the first Eudora High wrestler to sign with Baker University.
"I've always wanted to wrestle, but I didn't know if it would work out," Becker said.
Becker, who competed in the 160-pound weight class this year for the Cardinals, spent his first three years on Eudora's junior varsity team before cracking the lineup as a senior. Becker made the most of his senior campaign, going 26-19. He also nearly made the state tournament in Salina, but fell one win short.
Next year, Baker is adding wrestling to its athletic program, and Becker said he was glad that he'll be getting to wrestle close to home.
"I came into a good situation with Baker," Becker said. "It's really an honor to be able to wrestle there."
Jimmy May, who coached high school wrestling for 32 years in the Las Vegas area before retiring, will coach Becker. May said Becker had some of the qualities he looks for in student-athletes.
"First of all, he's a great student, and I think he's got a lot of promise as a wrestler," he said of Becker. "We look for good student-athletes at Baker University. Baker is a very prestigious academic school, so we're trying to bring in students who can perform in the classroom and on the mat. He's proven himself in the classroom. I think he's got some work ahead of him wrestling, but he's got a lot of promise. I'm looking forward to coaching him and helping him in that aspect."
May said he wanted athletes who had at least a 3.0 high school GPA and scored a 22 on their ACT exam because students could then get academic money and wrestling scholarship money. May said there were about 12 wrestlers on the Baker roster so far, and that he would be signing athletes until August. He also said one of the challenges college wrestlers face is the battle of attrition.
"That's the nature of the best," May said. "College wrestling is a different ballgame. Some kids who do well in high school don't pan out in college, and some kids who don't do all that well in high school who are still hungry and have a lot of drive them do. I think Ethan is that type of young man."
And having spent just one year on varsity, Eudora wrestling coach Bill DeWitt said Becker could improve over the next four years.
"That's the epitome of what hard work does for you because he's not yet a dominator, but he could be," DeWitt said. "He could be if he gets in and keeps working hard. Coach May is an outstanding coach who will do a great job with them, and Ethan is going to represent our school very well."