Cardinals cruise by 'Dogs 7-0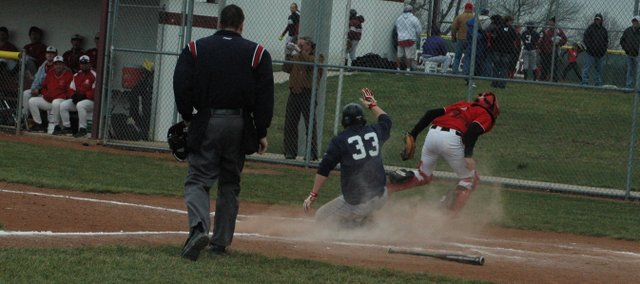 Photo Gallery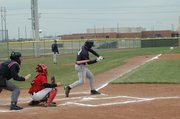 Eudora vs. Anderson County
Up three runs in the bottom of the sixth, the Eudora Cardinals didn't slow down one bit on the bases. Instead, they actually speeded it up.
Eudora stole four bases and scored four runs in the sixth inning and beat Anderson County, 7-0, on a cold and windy Thursday in Eudora.
"We like to run. I think we stole 13 or 14 bases on the day," Eudora coach Shaun Edmondson said. "When you can execute that many stolen bases over the course of a six inning span, then you're doing some things well."
Edmondson said Anderson County's starter wasn't real quick to the plate and its catcher didn't have the best arm, which the Cardinals picked up on early and turned the game into a track meet.
In the sixth, left fielder Kyle Swanson reached on an error to start the inning, advanced to second on a wild throw and late stole third. He scored on shortstop Evan Cleveland's RBI single. Cleveland then stole second and third. Second baseman Max Campbell drew a walk, and he and Cleveland scored on a double by first baseman Bryan Kindle. Kindle then stole third and scored on a wild pitch to push Eudora's lead to seven.
Offensively, Eudora didn't rip the cover off the ball. Swanson led the team with two hits, but the Cardinals were the beneficiary of four Anderson County errors. Eudora plated one run in each of the first three innings. William Gadberry was hit by a pitch, stole a base and scored on an RBI double by Swanson. Zach Bryant scored on an RBI single from Tyler Beebe.
Defensively, the Cardinals were strong as well and committed just one error in the game. The highlight of the night had to have been when Swanson caught a fly ball to left and saw an Anderson County runner drift too far toward third.
Swanson fired the ball back to Campbell at second for a double play to end the inning.
"Our whole team is kind of like that," Edmondson said. "It's not individuals – not only was Swanson aware of that, but Max alerted him to what was going on. The whole team was on that. They saw the guy left and it was a double play situation, and we all worked together and got that play done. That was a pivotal play in the game. Anytime you can get a double play, double plays are home runs for the defense."
Craig Harper started and went four innings and got the win. Zach Bryant pitched the final three innings to record the save. In his final two innings, Bryant got two strike outs, two groundball outs and two fly outs. Bryant, who had his fastball curve ball and change-up all on target, didn't let a ball out of the infield.
"It's always good to have a lead when you're out there," Bryant said. "It helps to have a good defense behind you. It gives you confidence that they're going to make plays behind you."
Harper and Bryant combined to give up just two hits and two walks in the game while striking out seven Bulldog batters.
"Defensively I thought we did a tremendous job," Edmondson said. "The pitchers did a really good job of throwing strikes and kept our defense into the game, and our defense made a lot of plays behind them."
Eudora played a doubleheader Tuesday at Louisburg and swept the Wildcats, 9-2 and 8-6.
Next up for the Cardinals (5-3) is a doubleheader against Spring Hill Tuesday at Eudora.