Energetic effort
Girls bounce back with 11-2 win over Bulldogs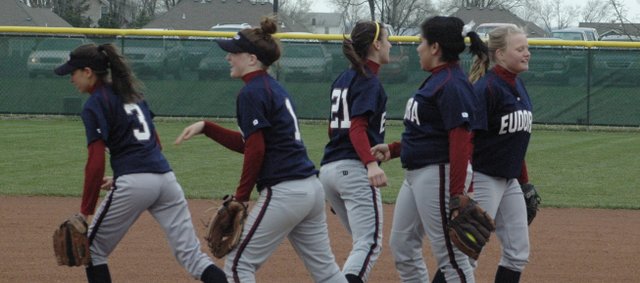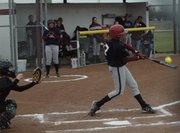 The conditions weren't ideal. Strong winds blew and it was cold with dreary skies overhead. No chance to hit one out of the park.
But Eudora didn't need to use power in its 11-2 victory over Anderson County Thursday at home. The Cardinals just needed to play with a little more energy than they did two days before when they were swept by Paola.
"I think we played a little scared against Paola," coach Cara Kimberlin said. "I think some of that comes from insecurity being a young team and a team that doesn't have a lot of varsity experience. We've got some kids playing in some new positions. Even though they might be returning varsity, some of them are playing a new position."
Players at a new position included Abbey Mott (who had previously played first base was moved to right field) and Jennifer Bowser who was playing second base instead of right field.
The shifting seemed to work both on the field and at the plate. Eudora had better defensive communication against Anderson County, as Kimberlin stressed prior to the game. She also stressed the team needed to be a little more aggressive on the bases. Eudora did just that.
The Cardinals scored five runs in the first inning off just one hit. Two hit batters, a walk, two stolen bases and two errors on the Bulldogs spelled doom for the visitors early.
"We took advantage of their mistakes, whether it was putting runners on with walks or with errors," Kimberlin said. "We were aggressive on the bases, which I like to see. The team is going to make some errors against us. My theory is keep the pressure on them by always having people moving and make them have to make a decision on where they're going to have to go with the ball."
Miranda Cobell started and gave up two runs in the second inning. The Bulldogs had five hits in that inning, but Cobell recovered and the Bulldogs didn't threaten to score the reminder of the game. In five of her seven innings, Cobell went three batters and out. She struck out two and walked just one in the game.
"She did a good job of keeping the ball down," Kimberlin said. "The umpire was giving her some inside corners, and she was taking advantage of that."
Already up 7-2 in the bottom of the fourth, the Eudora offense continued to roll. Bailey Scott led off with a single up the middle. She soon stole second and advanced to third on the throw. Evan Folks had a bunt single, and Madison Oller drove them both home with a double. Eudora loaded the bases, and Allie Johnson's RBI single scored Mallory Reece, and Mott scored on an single by Chelsea Grammer to make the game 11-2.
The second game of the double header was cancelled because of inclement weather and has been rescheduled for April 27 at 4:30 p.m. in Eudora.
The Cardinals (3-4) played Tuesday at Louisburg and split a doubleheader. Eudora lost the first game 8-7 and won the second game 18-1 in a run-ruled four inning blowout.
Evan Folks was the starting pitcher for the first time in her career and got the win. Folks had five RBIs and Grammer had four RBIs in the nightcap.
More like this story