Former Eudoran wins award for volunteerism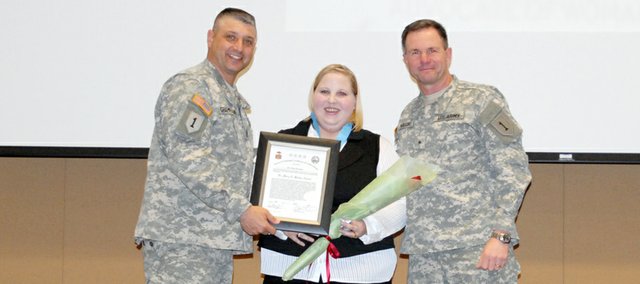 Patsy Roseman can't find the right words to explain how hard it can be to have a loved one overseas in the armed forces.
"It's hard to understand it unless you've been through it," Roseman said.
But an unspoken gesture made to her by someone who did understand — her family readiness group leader Kim Wagenblast — touched her to the point that she decided she also would like to make a difference for others in her position.
It was at an FRG meeting during her husband's deployment that Wagenblast simply held Roseman's hand as she listened to a soldier on leave tell her how her husband, Jonathan, was.
Roseman's work as a FRG leader at Fort Riley was recognized April 3 when she was given the Dr. Mary E. Walker Award, which honors the volunteerism of spouses of soldiers.
"It was a pleasant surprise," said Roseman, who graduated from Eudora High School in 1996. "It's always nice to learn that you're appreciated for volunteer work that can sometimes be thankless."
Family readiness groups keep families aware of information and help them adjust to military deployments and separations.
"It's very important for these families to know that they're not the only ones out there and that they have people who can help them or know what they're going through," Roseman said.
Roseman doesn't necessarily have time to spare as she also dedicates a great deal of time to her 2-and-a-half-year-old son Damian, who has Down syndrome.
"We have a lot (of time) to spend education-wise and therapy-wise, so making time for everything is difficult," Roseman said. "But it (volunteering) helps me too, though, and maybe it's just the control freak in me that wants to know what's going on."