Reese lifts Cards late in sweep over Broncos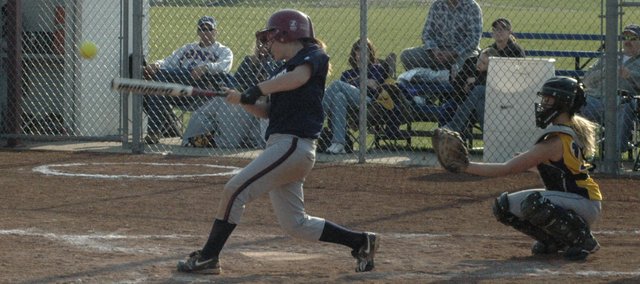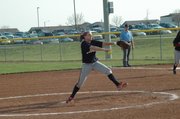 Mallory Reese saved the day twice for Eudora Tuesday night.
Reese hit the game-winning single in the bottom of the seventh to give the Cardinals a 6-5 win over Spring Hill in the first game of the doubleheader, and Reese's heady snare of a Spring Hill line drive at third and quick force out at the bag for a double play in the sixth inning of game two stopped a rally, and the Cardinals went on to win 8-2 to earn the sweep over the Broncos.
In game one, Reese was down in the count 0-2 and dropped a single to left field that scored Bailey Scott for the winning run.
"I was just telling myself not to be nervous," Reese said. "I was just thinking like there were no outs."
Scott led off the seventh with a single to left and quickly stole second. With one out, Evan Folks hit a grounder to short and reached on a high throw to first base. Scott advanced to third on the play. And then with two outs, Reese hit the game-winner.
"She's a very heads-up ball player," Eudora softball coach Cara Kimberlin said. "She's played a lot of ball and she's very competitive. It drives her crazy when she makes mistakes on the field or when she strikes out or doesn't get on. She can sometimes be a little tough on herself. But that's twice this year she's made that heads-up play, and the runner is just hung out to dry because they're off with the pitch, and you don't really have a chance to get back.
The second game was somewhat of a reversal from the first game. Folks started the game and Cobell finished the game.
"They throw a little bit different, and that helped," Kimberlin said. "But the big thing is Miranda's got to understand that if she's getting hit on, she's got to accept the fact that somebody else has to come in. I just felt that we can't get ourselves in a big hole down in runs, and so when we went down one you take a chance and you switch them, and Evan did a good job, and then Miranda came in and threw well at the end."
Eudora jumped out to an early 2-0 lead in the nightcap, but with two outs Spring Hill tied the score in the fourth on a ball that got behind the catcher and on an error. Cobell then relieved Folks and closed out the inning.
Folks, though, soon got the Cardinals the run back. Folks led off the bottom half of the inning with a walk and stole second. She advanced to third and scored on a wild pitch. Eudora scored two more in the fifth and three more in the sixth to blow the game open. When Spring Hill changed pitchers during the sixth, the Eudora bats, which had scored five runs on just three hits through the first five innings, came to life.
Reese laced a single to right, Cobell walked, Stephanie Orth had an RBI single, Allie Johnson reached on a fielder's choice, Chelsea Grammer hit a two-run double and Bailey Scott added another single in the inning.
Next up for Eudora (5-4) is a doubleheader against Wellsville at 4:30 p.m. Thursday at Eudora. The Cardinals will also play a makeup game with Anderson County on Monday at Eudora and a doubleheader against Ottawa Tuesday at Eudora.