Seven-run fourth propels Cards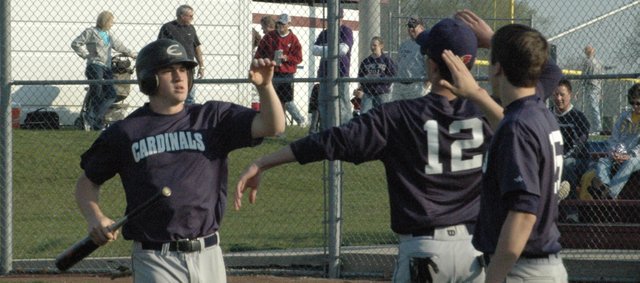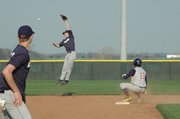 In the bottom of the fourth inning of the first game of the doubleheader Tuesday at Eudora, the Cardinals were at bat for 45 minutes.
Eudora batted around and scored seven runs to retake the lead, and defeated the visiting Spring Hill Broncos, 10-8. The Cardinals didn't cross the plate nearly as much in the nightcap – just two runs – but those runs were plenty, and Eudora took the nightcap, 2-0, to sweep the doubleheader.
"I think we showed a lot of resiliency in the first game," Eudora baseball coach Shaun Edmondson said. "And anytime you're able to comeback from a four or five-run deficit, it shows the character of your club. I think we have a bunch of pretty tough-minded kids. We didn't get down, we weren't frustrated, we weren't flustered. We knew we were going to continue to grind it out and that's what we did. Some guys came up with some big hits, and overall team-wise we played pretty well."
In the first game, Spring Hill scored two in the first inning, and Eudora countered with three in the second. But the Broncos scored five more in the third to take 7-3 lead.
In the second inning, Zach Bryant led off with a single and scored on Coulter Vestal's triple that nearly left the park. Craig Harper then singled to right, and Bryan Dudley drove in Vestal and Harper on another triple to deep center.
Vestal also hit a double in the first game and had three RBIs. He also played left field and made a nice catch on a deep fly ball late in the nightcap to help preserve Eudora's lead. Vestal said that though Eudora was down early, the team never felt like it couldn't come back and win.
"We never really feel like we're going to lose," Vestal said. "We always feel like we can come out and dominate anybody. That's just kind of how it is here."
In Eudora's seven-run fourth, Max Campbell had an RBI on a sac fly, Vestal hit a two-run double and Bryan Kindle had an RBI single. Michael Bricker started the first game and threw strikes, but a few miscues behind him hurt the Cardinals early. Bricker was relieved by lefty Derek Scrimsher, who turned in a solid performance.
Spring Hill scratched in a run in the sixth, but couldn't rally late.
In the nightcap, Eudora tallied a run in the second inning and one more in the fourth, as Bricker singled and Drew Noble followed with an infield single. Bricker eventually advanced to third and scored on a double steal.
Craig Harper started the second game and pitched 4 1/3 innings of scoreless ball before giving way to Dudley. Dudley pitched 2 1/3 scoreless and got the save. Dudley struck out four batters, allowed one hit and one walk.
"Mike made some good pitches," Edmondson said. "I think we made a few mistakes behind him that first game, but he attacked the zone like he was supposed to do. Really our pitching did a pretty nice job from the first batter of the first game to the last batter of the second game."
Eudora tallied nine hits in the first game and five in the second game. The Cardinals (7-3) will travel to Bonner Springs Friday for a doubleheader beginning at 4:30 p.m.