Ready to run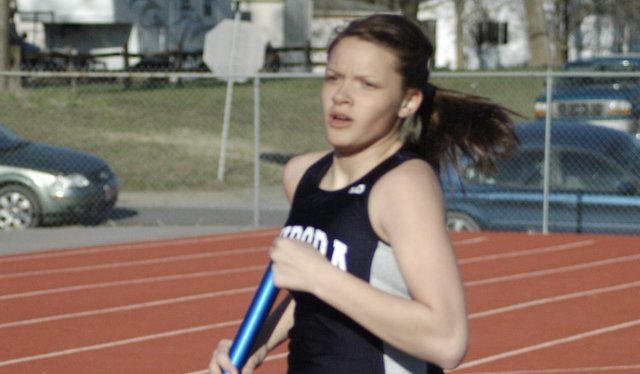 It's that time of a year again. The Cardinal Relays are set to begin Friday at Eudora, but this year the nine-team meet will be a bit different from previous years.
"It has the past three years been opposite of the KU Relays," Eudora track coach Phil Katzenmeier said. "So a lot people didn't bring their best people because they were running at KU. This year everybody will have their full squads competing, so that will help the quality. So it'll be harder to win events."
Eudora senior pole vaulter Allison Hoover will be competing in her last Cardinal Relays. Hoover said she was looking forward to competing on the Cardinals' home territory.
"It gives us a chance to jump at home, so we have the home-field advantage," Hoover said. "I like it because it's a lot more laid-back there just because you're at home and you're around a lot more people, so you feel like you're at the top of your game."
Hoover finished 16th in the girls pole vault last Friday at the Kansas Relays by clearing 9 feet. Hoover had three attempts to clear 9 feet but couldn't.
"We're having troubles finding a pole that's working good for me because I'm jumping a lot harder than I usually am and running a lot harder at the start," Hoover said. "And we're having troubles with that because the ones I've been using have been bending too much. Believe it or not, I have been getting better," she said with a laugh. "It just didn't show today."
It was the first time Hoover competed at the KU Relays, and she said it was a little intimidating.
"I'm definitely not at the top of the list like I am at our meets," said Hoover, Eudora's school record holder in the pole vault.
Justin Ballock also competed in both hurdle events at the KU Relays, and Eudora's sprint relay team of Tianna Dunnaway, Kendal Abel, Rachel Pyle and Alisha Wingebach competed in the girls 4x100 and 4x200 relays.
In the boys 110-meter hurdles, Ballock finished 23rd at 15.84. In the 300 hurdles, Ballock finished 32nd at 42:31. In the 4x100, the girls ran a 51.85, which was good for 28th, and in the 4x200, the girls came in 25th at 1:53.
No team scores were kept at the KU Relays. The athletes who did not compete at the KU Relays, competed in the Anderson County meet last Thursday instead. As a team, the Eudora girls finished fifth and the boys third.
Cody Carlson notched a pair of thirds in the shot put and javelin throw, and Mariah Webb took third in the javelin for the girls. Ben Katzenmeier also took third in javelin for the boys. In the 100-meter dash Brian White took fourth with a season best time of 11.1. All seven of the boys 100-meter sprinters had season bests.
"It is great seeing so many people improve as they did," Katzenmeier said.
The Cardinals will look to pick up some more hardware when the Cardinals Relays begin at 4 p.m. Friday.