5 Questions: City pays tribute to municipal clerks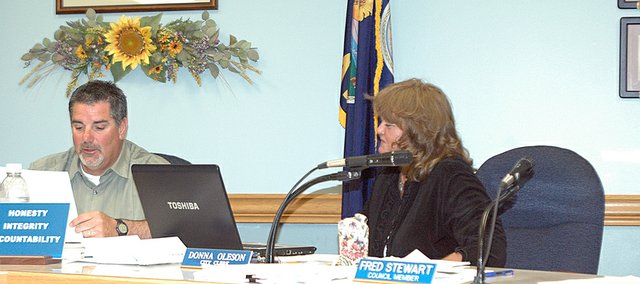 May 3 through May 9 is National Municipal Clerks Week. There will be an open house from 1 to 3 p.m. May 7 at Eudora City Hall, 4 E. 7th St.
City Clerk Donna Oleson spoke about her 23 years of experience as a municipal clerk.
Q: How long have you been with the city of Eudora?
A: I've been the city clerk for 11 years, but I've worked here since 1986. I started out as a utility clerk.
Q: What are some of the changes you've seen during your employment?
A: One of the quickest changes I saw here was when we began building the sewer plant and we went from one city council meeting a week to two. In that first month, we had four meetings.
Q: What should the public know about the clerks?
A: It's important for them to know that we're here to serve them and we're not here to rip anyone off.
We're just like them and we have to pay our bills, too. And if they have something they're concerned about they should give us a chance to justify it before they get worked up.
Q: How well do the other clerks help you do your job?
A: They help tremendously. Anytime anybody is on vacation or on sick leave, we all have to chip in and you can really notice that person is gone.
Q: What is your favorite part of this job?
A: I think just the public relations part of it. I was born and raised here; I know a lot of people and they know me. But I'm always meeting knew people.
I also stress to the clerks out front to make people feel welcome and work with them.
In a lot of cases they are someone's first impression of our town, and I want to make it a good one.