Councilman takes first step in turning around benches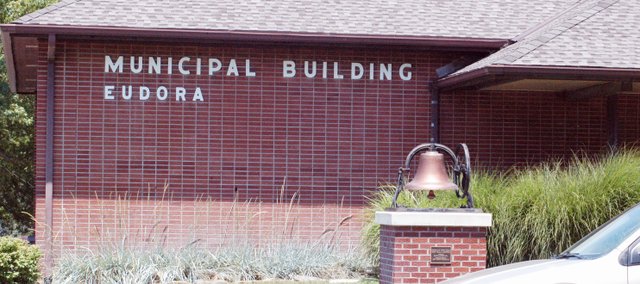 When Eudora City Councilman Tim Reazin was interviewed after being elected a few weeks ago, he said he was "looking forward to getting to work."
That expression was more literal than cliché.
When he saw that the benches on Main Street — which are considered by many to be facing the wrong direction, — would be discussed at this week's meeting, he and some of his fellow volunteer firefighters got an early start on correcting the problem.
"Everyone wanted the benches turned around and Tim kind of grabbed the bull by the horns and ran with it," Mayor Scott Hopson said.
The group turned around the pair of benches that sit in front of the police and fire station, and at Monday's City Council meeting, Reazin told the council they would turn around the remaining benches, as well.
Reazin, Councilman Bill Whitten and Mayor Scott Hopson both said they had been hearing a lot from citizens who felt that the benches should face the street, not the buildings.
The benches were installed last year as part of the downtown beautification project.
The council also took action to create policies and assign new duties in the wake of former city administrator Cheryl Beatty's resignation April 15.
The city administrator has the power to hire and terminate all employees other than those appointed by the council; reprimand all employees, including department heads; and can suspend employees without pay, though council approval is needed when a department head is involved.
The council approved an ordinance stating that if the office of city administrator is vacated, the city council will exercise those powers. In the case of a tie, or if the number of favorable votes — which would be three — is one less than required, the mayor will cast the deciding vote.
The city then appointed Reazin as the incident commander for city disasters.
In other actions, the council:
• Adopted the Douglas County multi-jurisdictional hazard mitigation plan.
• Approved the purchase of a police cruiser as a result of one of the department's cruisers being involved in an accident March 28. Though the car didn't appear to be damaged, its undercarriage was totaled.
The department will receive $6,435 from EMC insurance and will keep the car for parts.
The police department will look into purchasing a car from the Kansas Highway Patrol for no more than $14,500.