Neighbors: Tim Reazin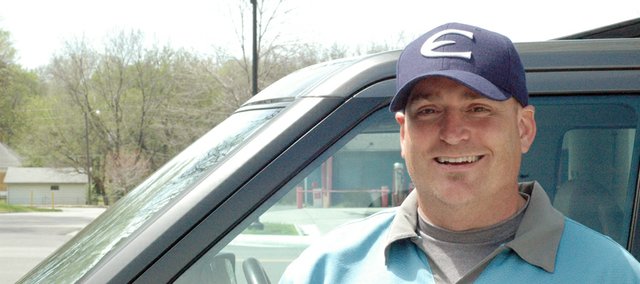 Occupation: Stay at home dad, FEMA and EMS responder, volunteer fireman, Eudora City Councilman
Family: Wife, Lynn, and sons, Caleb, Ezekiel and Nathaniel.
Q: How long have you lived in Eudora?
A: I've lived in Eudora since 1997
Q: What is the best advice you've ever been given?
A: Do what you can to help others because it all comes back in the end.
Q: What is the biggest risk you've ever taken?
A: Leaving my career to spend time with my children.
Q: What are three things people should know about you?
A: I'm a Denver Broncos fan, I decorate cakes for fun/money and I'm married to my high school sweetheart.
Q: What are three of your pet peeves?
A: Gossip, especially when it has the chance to hurt others; people who make tapping noises; saying you're honest when you're not.
Q: When you were a child, what did you want to be when you grew up?
A: A U.S. Marshall
Q: What is your ideal vacation?
A: Time with my wife and three sons at our cabin in Minnesota.
Favorite things
Song: "If I Ever Leave This World Alive" by Flogging Molly
Favorite movies: "Full Metal Jacket," "The Jerk" and "Super Troopers"
Book: "Oh, The Places You'll Go!" by Dr. Seuss
Food: Chicken critter salad at Texas Roadhouse