Seniors lead way during summer league play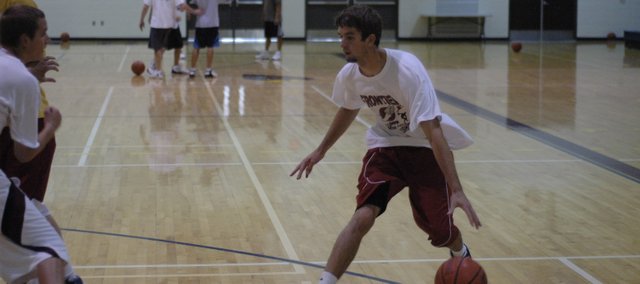 It's still more than three months before the Eudora boys basketball teams begin practice, but when practice starts in November, the Cardinals could benefit from the progress they have made this summer.
Eudora recently concluded its six-week summer league schedule in Bonner Springs, and Eudora coach Kyle Deterding said he was pleased with the way his teams played and the number of kids who participated on the varsity and junior varsity teams.
"The seniors did a good job leading and we had a couple younger guys step up and kind of help us out on the older team and the younger team," Deterding said. "We had about 16 or 17 guys play this summer, so that's a pretty good number of the two groups."
In addition to playing in the summer league, Eudora also played in a couple tournaments and went to a basketball camp at Creighton University.
"For the most part it was a pretty good six weeks," Deterding said. "You always kind of want kids to do more, but most of them are in at least a couple sports and some of them are working jobs. So most of them made a pretty good commitment about trying to get on the court some and playing a little bit."
Eudora also notched a few wins over bigger schools, but Deterding added that wins during the summer aren't a great indicator of how the team will fare come winter.
"I don't put much stock into that in the summer," Deterding said. "We do some things a little bit different. We're not worried much about the wins and losses as we are about just getting better and competing and having fun."
More like this story