Neighbors: Jeff Ingle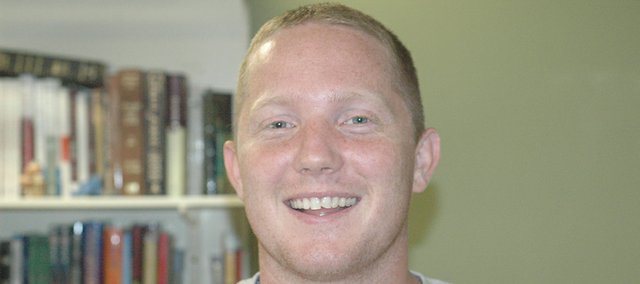 Occupation: Associate pastor, Eudora Baptist Church
Family: Wife, Bethany
Q: How long have you lived in Eudora and what brought you here?
A: I've lived in Eudora for 5 years and I moved here because of my job.
Q: What is the best advice you've ever been given?
A: Once you use a fork to eat Oreos, you'll never go back.
Q: What are three things people should know about you?
A: I'm 30 but nobody believes it, I love Jesus, and if you make me lasagna, we're friends for life.
Q: What are three of your pet peeves?
A: I've heard every red-headed stepchild joke in the book, so don't try tell me any new ones. I don't like when my wife clicks her finger nails, and I don't like it if there's something wrong with my appearance — like something in my teeth or on my shirt — and nobody tells me.
Favorite things
Song: "Beloved" by 10th Avenue North
Favorite movie: "The Patriot"
Book: Ted Dekker's "Circle" series
Food: Lasagna