USD

491 board tours new elementary school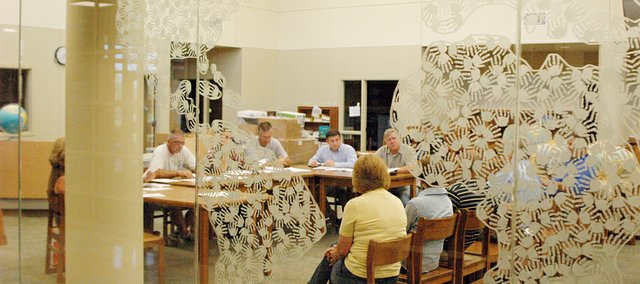 As the principal of Eudora Elementary School talks about the new $45 million school that is set to open Monday, her genial countenance lights up as she searches for the words to match her feelings.
"I get emotional when I think about it," Irby said. "For the last two years, our motto has been 'dream, plan and achieve.' The community dreamed of a learning environment like this, people planned it and here it is."
Irby walked Wednesday with members of the USD 491 Board of Education during a special tour of the building to be the home of students in grades first through fifth.
At a capacity of about 1,000 students, the school will be the biggest in the history of Eudora. It features biome-themed neighborhoods that will be divided according to grade level and a map of the world is emblazoned on what is essentially a glass wall that stretches across the front of the library.
"Once you walk around in here, you realize there is a teaching or a learning moment everywhere," Irby said
And with its FEMA-funded safe room that can withstand projectiles moving at 250 mph, the building also will be the safest location in Eudora when severe weather hits.
To say lifelong Eudoran and Board member Eric Votaw was impressed with the wide-open spaces and vibrant design and color scheme would be an understatement
"I don't know that I'd have imagined a day where Eudora would have a building quite like this," Votaw said. "I think that kids will be excited to come into this building, and that will only make the jobs of the teachers and staff easier."
Keeping in mind that the school will be new to all of the students, the district will have a Meet Your Teacher event from noon to 3 p.m. Friday at the school for first- through fifth-grade students and their families.
"We want the kids to feel socially, emotionally and academically comfortable so it's very important that they come in," said Irby of the event.
For more information on school supplies, shuttle information and safety information, go to the Eudora School District's Web site at www.eudoraschools.org.