Right at home
Senior tackle looks to lead Eudora offensive line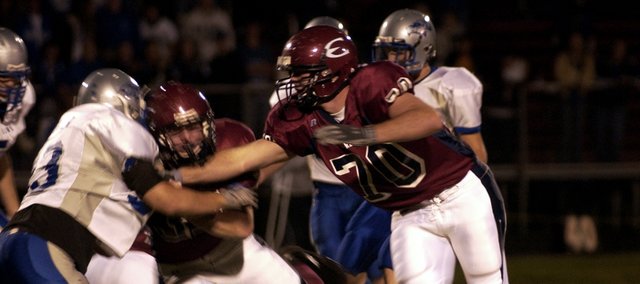 Colton Lynch is no softy. When he lines up at right tackle, every play he is first focused on just whom he gets to hit first.
"You have to be the one to make the contact on the offensive line," Lynch said. "Because if you don't and you're waiting for them, you're already two yards back in the backfield."
As Eudora's starting right tackle, Lynch helped pave the way for 2,923 yards rushing last year. Lynch's efforts didn't go unnoticed during his junior campaign, as he was a first-team All-League pick.
"That was a nice surprise," Eudora football coach Gregg Webb said. "Our offensive line was not too bad last year and the good part of that is they got a year under their belt and for the most part we get all of them back."
Lynch, who is being recruited by a few NAIA schools, has come a long way since his pee-wee football playing days for the Lawrence Cougars. Now, as the 240-pounder enters his senior season, Lynch is a team leader who will have a new right guard at his side this fall, as Eudora looks to fill the void lefty by longtime right guard Cody Carlson, who is now playing football at Northwest Missouri State.
Senior center Matt Schultz also returns to the Eudora O-line, and he and Lynch will help the Cardinals break in a few new offensive linemen, some of whom could be underclassmen to add depth to the group.
"I tell those kids that we're a team and we're all in this together," Lynch said. "And they can do their jobs if they stay focused and give it their all. Age doesn't mean anything. It's how you perform overall out there on the field. It's all in the head. If you think you can do it, then you're going to end up succeeding."
Eudora's successful running game last year was a result of good blocking and All-State running back Ryan Fisher.
Though replacing Fisher will be difficult this year, Eudora has several ball carriers returning, including Evan Cleveland, Ryan Mendel and Boomer Mays.
Cleveland, who ran for 385 yards last season, said there was a comfort level having Lynch on the outside.
"He flattens people over and he knows what to do on every play," Cleveland said. "He rarely makes mistakes and he helps people on the other side of the line with what they're doing because he's so smart he can just control the whole offensive line. He knows what everybody is doing on every single play."
After a disappointing 4-5 season last year, Lynch and the Cardinals will look to start the season strong with a win Sept. 4 against Spring Hill. Spring Hill upset Eudora, 14-13, in the season opener last fall, and Eudora never really recovered from that stunner. But Lynch said that wouldn't be the case this time.
"It's going to be a different mind game," Lynch said. "We're going to be ready to win. We're going to be ready to win and we're just going to go out there and give it our all every single game. It's my senior year, it's going to be our senior year so we just want to make sure we go out with a big bang."