New school earns rave reviews at Meet Your Teacher event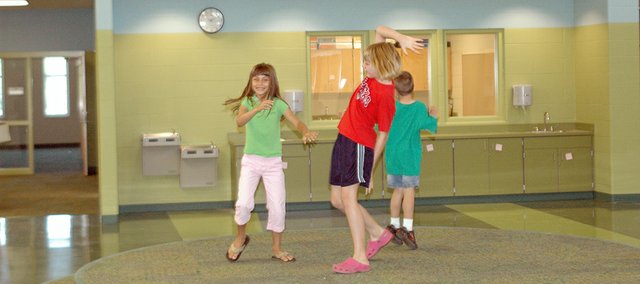 As Christine Yoder greeted Eudora Elementary School Principal Jan Irby during a sneak peak of the new $27 million facility, Yoder's son Brayden Yoder-Mulkey rushed to the two women and made it known that he was less than disappointed to be three days away from the first day of school.
"There's a library, and it's huge," the third-grader excitedly interjected.
Yoder-Mulkey's reaction was part of a sea of compliments ranging from "holy cow" to "oh my gosh" during Friday's Meet Your Teacher event for first- through fifth-graders and their families.
For Yoder, who spent several hours on the bond committee lobbying voters to approve the construction of the school, the event was evidence of a job well done.
"There's this overwhelming feeling of success," Yoder said. "And as I brought my son in, my daughter said 'mom, part of this is because you did this.'"
Amy Isenburg, who recently moved to Eudora from Prairie Village, said the school supported her and her husband's notion that the Eudora School District would measure up to their high standards.
"We came from really high-end schools and we felt like the schools here keep pace with that," Isenburg said. "When we wanted to move here the schools weren't a concern and we knew they were something we could count on."
At a capacity of about 1,000 students, the school will be the biggest in the history of Eudora. It features biome themed neighborhoods that will be divided according to grade level, which caught the eye of more than a few students.
Third-grader Thomas Swenson said he liked the greens of the rainforest and the blues and purples of the arctic.
And for third-grader Isabel Barrera, jumping up and down wasn't relegated to the gymnasium.
"I could get used to those lights in there," said Barrera as she exited the rainforest neighborhood.
But students and parents aren't the only ones who were excited about the new building.
"The size of this place blew me away," second grade teacher Dick Powers said. "All of it has impressed me from top to bottom. I mean, have you seen the big bread maker in the cafeteria?"
Powers also took note of the fact that the kids, too, were impressed.
"It's always good to have kids excited to come to school," said EES second grade teacher Dick Powers."