EHS

soccer building for the future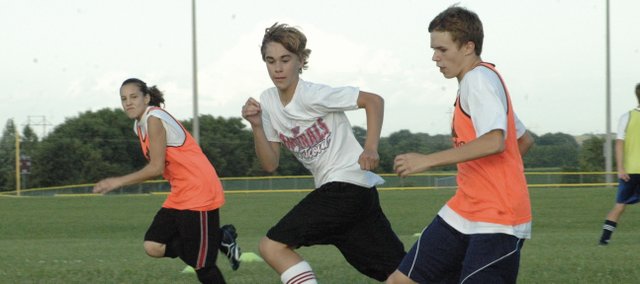 In soccer, there is usually a buildup to every goal scored. There's a give and take, a long seesaw battle that concludes when a goal is eventually scored.
And as the Eudora soccer team tries to rebound from a winless season a year ago, coach Gunar Harmon is slowly building up his soccer program.
A season ago, Eudora was besieged by injuries and low turn out. It was a battle for the Cardinals to even conduct practice let alone field varsity and junior varsity squads. But as of now, Harmon has 41 players on the team, including eight seniors and more than 20 freshman.
"As we stand here, we're looking at a youth movement," Harmon said.
While the Cardinals are young, they can learn from eight seniors, including Matt Jump. Jump will look to improve on his junior campaign where he earned second-team All-State honors.
"I think a lot of them are pretty good," Jump said of the freshman class. "So I'm looking forward to seeing how they'll step up and play."
This summer, Jump played in the Gothia Cup in Sweden and said it was a great learning experience.
"It was a lot different experience just because we played foreign teams," Jump said. "Their style of play is so much different. They move the ball better and individually they were a lot better."
Jump's team went 1-3-1 at the games. Now back at EHS, Jump has several key returnees back from last year's team, including John Chumbley, Ryan Pennington and Michael-Shayne Baxter. Midfielder Madeline Dickerson, who suffered a knee injury late last year, also returns.
"She's back," Harmon said. "By all accounts better than before."
Eudora opens its season Sept. 3 at Ottawa and then will play road games at the Frontier League Tournament, which is new this year.
League officials decided that by playing each league team twice the bigger schools weren't getting better and nor were the smaller schools. It also didn't provide much flexibility in the schedule to play more than two games outside the league. But now Eudora has added games against Schlagle and Immaculata.
"We found some ways to get some schools that are on a comparable par soccer-wise with us and we'll see what happens," Harmon said.
Harmon said with such a young team he is adopting a new coaching philosophy and also has a new assistant coach Erryn Kindle.
"It's an opportunity for everybody," Harmon said. "I'm trying to create a new culture, a new identity and it starts at the top."