Volleyball will be battle tested on road in '09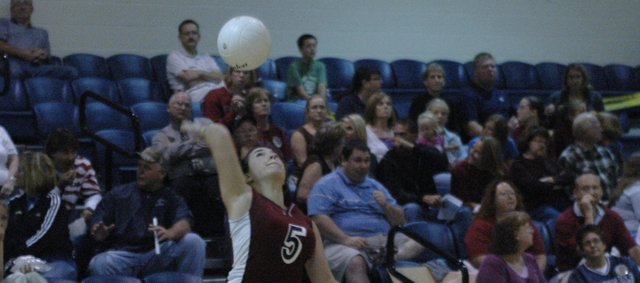 The Eudora volleyball team is always a scrappy bunch. But this year, Eudora will have to take that attitude to the road far more than last year.
Eudora has only two home matches this year and everything else is on the road. So if the Cardinals want to win the tough Frontier League title and return to the state tournament, they will have to become true road warriors.
"Every four years we go through a period where we have a lot of home games and then we're on the road," Eudora volleyball coach Jill Stutler said. "You know, it doesn't matter where we play as long as we're focused on the things that we need to do on a daily basis, we're going to be fine. That's all I'm concerned about. I want us to be better at the end of October than we are in August. So that's what we're looking for."
Alex Mott, Abby Mott and Shea Lounsbury return as Eudora's three seniors. Other key returnees include sophomores Morgan Wiley and Katelyn Abel. Eudora loses Kendal Abel, Mariah Webb, Tianna Dunnaway and Miranda Cobel to graduation. One again, the Cardinals do not have much height on the roster and will look to makeup for that shortcoming with hustle.
"We are not the tallest, but we are a little quicker this year," Stutler said. "We don't have a lot of height, but you just have to have the scrappy mentality that any ball that's coming around me, I'm going to get a hand on it. That way we're frustrating the other team and trying to outlast them in rallies."
The Cardinals outlasted their opponents quite often last season and ultimately fell one win short of making the state tournament, as Eudora lost a heartbreaker to Bishop-Ward in the championship match at sub-state. Alex Mott said the Cardinals had a team that could make another run in the postseason.
"I think we have a really good chance to be successful," Mott said. "I don't think we're going to be unstoppable, but we have a lot of heart and desire on this team."
Eudora's first match of the season is a home quad against Baldwin, Basehor-Linwood and Bonner Springs on Sept. 1. Eudora's other lone home match of the season is Sept. 22 against Ottawa.
Stutler said she wanted the team to play its best in October, and added that Cardinals usually do that.
"We get there eventually," Stutler said. "Everything is a teachable moment and everything is a lesson that we need to learn along the way. And that process is what's most important. They learn about themselves and they learn about each other."