Douglas County 4-H recognizes Eudora student's work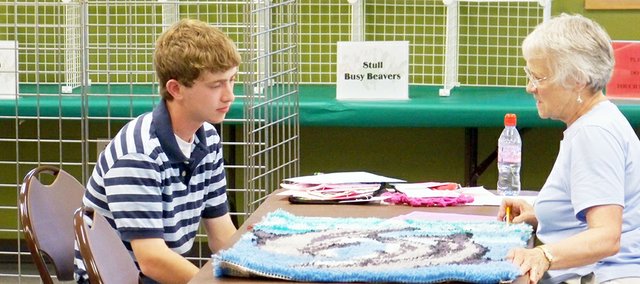 As Matthew Kelso and his fellow Douglas County 4-H ambassadors rehearsed the script for the awards ceremony at the end of this year's Douglas County 4-H Fair, he heard his name announced as the Gilbert Gilges Solid Member Award recipient.
He momentarily was taken aback and he had to read it for himself when he received his version of the script.
"When I got my copy of the page, it took me a couple of times to read it," said the 16-year-old Eudora High School sophomore. "I figured there were older members who were more deserving than me."
The award recognizes the 4-H member who doesn't necessarily win the most awards, but is willing to pitch in and do what it takes to make the fair a success.
Kelso said the extra work, which could be anything from spending extra hours picking up trash to working in the concession stand, was rewarding in its own way.
"The award means a lot to me," he said. "If I didn't win the award, I wouldn't be heartbroken because I know I get out of
4-H just as much as I put in. But this award reinforces the work I do put in."
Kelso joined the Eudora 4-H club when he was about 7 years old, though he didn't have the fervor for it that lead him to become the Eudora club's current president.
Mark Flory, Douglas County 4-H youth development agent, said Kelso leads by example and is an important positive influence.
"This award was not something Matthew tried to earn; he was awarded for the way he is," Flory said. "This was Matthew being Matthew. He's always going to be the one who steps up and does the jobs everybody else doesn't want to do."
His goal-oriented nature has caused some — including his parents — to say he needs to lighten up a bit.
"He probably won't like me mentioning this, but as an example, he potty-trained himself when he was 2-and-a-half so he could go to preschool," said Matthew's mom, Robyn Kelso. "I am sure folks thought we put a gun to his head, but it was all him."
Robyn Kelso said much of his work ethic is innate and was especially evident when times were tough.
"Even though I hated it at the time, when my husband was battling cancer several years ago and was very weak, Matthew stepped up to help out around the farm in ways I never thought he was capable of as he was only 11 or 12 at the time," she said. "And since that time, he's never looked back."
While 4-H keeps Kelso busy, he makes time to play trumpet in the EHS band, play on the EHS soccer team and participating in the St. Paul United Church of Christ youth group.
"Yesterday, I was talking to my soccer coach and he said I needed to relax a little and as I was driving home I was thinking about that," Kelso said. "I love 4-H, I love soccer, and band is going to be a great year for us. I don't want to cut back on anything."