Source material
Students pick up coins, solicit authors to expand library collection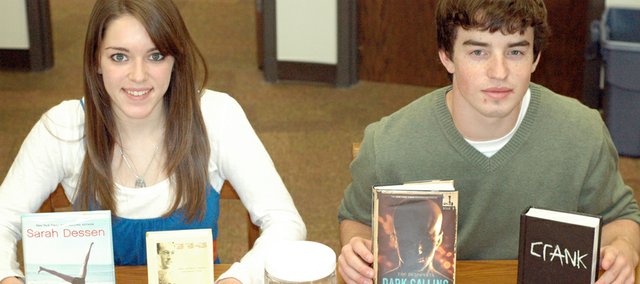 Book-loving students and faculty at Eudora High School have found one of the solutions to expanding the collection at the school's library in a year of budget cuts was under their feet.
English instructor Linda Riedel and students in her Honors English II class came up with collecting pennies as a way to collect money.
"I said to the students, 'It drives me nuts. I see pennies all over the floor and I see them in the parking lot. Pick them up, put them in a jar and let's save them and get books for the library,'" Riedel said. "The pennies then became nickels, dimes, quarters and dollars."
This year, the state cut about $544,000 from Eudora USD 491's budget.
And last week, Gov. Mark Parkinson's announced another round cuts.
Accordingly, the district had been making cuts to compensate, and the library's budget was decreased from $2,945.23 in the 2007-08 school year to $1,400 in the 2008-2009 school year.
Eudora High School librarian Gretchen Schreiner said the national average for books per student is 22, but Eudora has an average of about 10 books per student.
"There are a lot of students who like to read, and we don't have a lot of books," sophomore Chris Pyle said.
Riedel and her students wanted to do something that wouldn't cost any money when they decided on the penny collecting effort.
After collecting pennies for about two month and collecting $350, the students were able to purchase about 30 books.
"Within the first week, we were already surprised," sophomore Katelyn Abel said. "We thought we'd only raise about $10 in the first week."
The early success didn't prevent the students from considering other ways to acquire more books.
At a previous teaching job, Riedel had her students write to authors and celebrities asking for free items for an auction.
She adapted that activity, having the students request authors send their work to the library.
After just three weeks, the students have received 30 books.
"A lot of times, I'm a cynic," Schreiner said. "I would have never thought that if you write an author that they'd send you something for free. That's been really good for me to see that it doesn't hurt to try. "
Students now are checking books out as fast as Schreiner can get them catalogued.
"Mrs. Schreiner came in one day (to our class) and said, 'I have new packages,'" Abel said. "Everyone gets excited about it, and it's cool to see how everything is working."
That enthusiasm for literacy was what Jon Ronson, author of "The Men Who Stare at Goats," which recently was made into film starring George Clooney, had in mind when he sent a copy of his book.
"Of course, books are dead if they're sitting there not being read," Ronson said. "Whereas if they're on a shelf at Eudora High School and some kid happens to find a particular one and gets into it, and maybe something gets inside their head and it inspires them to do something — like write, or have an adventure — well, that's wonderful."
Pyle and Abel, who still have two years left in their high school careers, said they would like to continue both the collection-expanding efforts through to their graduation.
And while Riedel was pleased to see an increase in the students' interest in reading, she was more pleased with their enthusiasm to finding ways to overcome adversity.
"I think this has taught the kids some lifelong lessons," Riedel said.
More like this story