Ballock scores 41 in Cardinals' 81-41 rout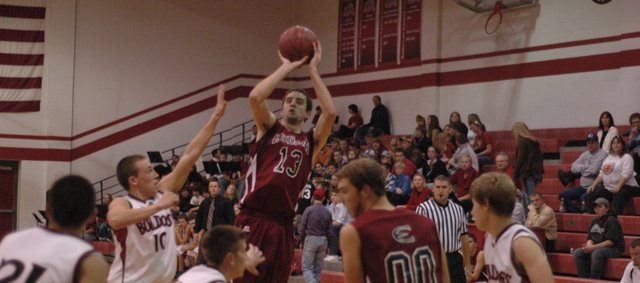 Photo Gallery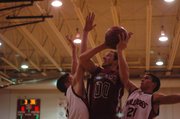 EHS vs Anderson County
Justin Ballock erupted early and often Friday night.
Ballock scored 41 points to help lead the Cardinals past Anderson County, 81-41, Friday at Garnett.
Ballock scored 21 of Eudora's 31 first quarter points, including a thunderous dunk that brought the Eudora fans to their feet. Ballock made 15 field goals, two three-pointers, and hit nine of 10 from the free-throw line in the game.
"I made shots," Ballock said. "I felt good, so I kept shooting it and it kept going in."
Several of Ballock's and the rest of the team's field goals came on easy layups as a result of Eudora's pressure defense that created numerous Bulldogs turnovers.
"We were pretty active," coach Kyle Deterding said. "We're not blessed with tremendous height, so if we're not very active we're going to struggle with teams. So we've got to play smart and play hard to have a chance in most of the games that we're going to have to play."
Eudora also received solid play from its eight seniors. While Ballock led the way with 41, fellow seniors Brian Katzfey scored 14, Coulter Vestal 10, Drew Noble 7, Matt Jump 3, Evan Cleveland 2, and Connor Scott and Joel Lauer each had one point.
"They're seniors," Deterding said. "It's time to go for those guys. This is their last hee-haw, so they've got to get going. Defensively they came out and did a nice job. They played pretty hard."
By halftime, Ballock had 28 points, and Eudora led 51-27 at the break. The starters were shuffled in and out in the third quarter and were eventually pulled early in the fourth quarter.
"When the shots fall like that, you play harder on the defensive end," Deterding said. "The way we shot the ball, it's hard to tell how good we were tonight because we shot the ball so well. When everything falls it doesn't matter what you do, it looks good. We made a lot of shots tonight, so everything looked a little better than it was."
Eudora (1-0) will play Bishop Ward in the opening round of the Eudora Invitational at 6:45 p.m. Monday at Eudora.
Score by quarters
1 2 3 4 F
Eudora 31 20 23 7 81
Anderson County 12 15 10 4 41
Leading scorers:
Eudora – Justin Ballock 41, Brian Katzfey 14, Coulter Vestal 10, Connor Scott 1, Matt Jump 3, Evan Cleveland 2, Joel Lauer 1, Drew Noble 7, Mack Hartwell 2.
Anderson County – Galen Ryman 10, Bryce Fritz 2, Chase Whitcomb 4, Alaric Bogle 8, Caston Cooper 4, Bry Stocksen 2, Trent Hoffman 5, Eric Tastove 4, Matt Walters 2.