Eudora girls top Bulldogs, fall at Paola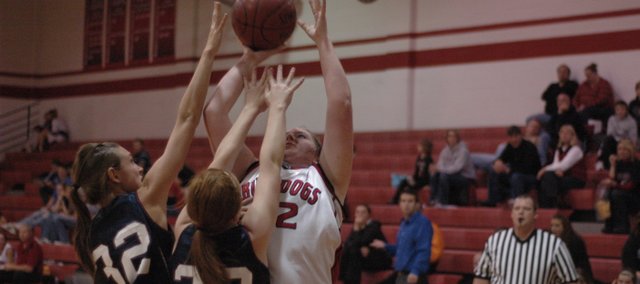 One final spurt was enough to give the Cardinals the cushion they needed.
With Eudora clinging to a three-point lead at the end of three quarters, the Cardinals went on a 7-0 run to start the third, as Evan Folks and Victoria Lehmann scored off offensive rebounds, and Jennifer Bowser hit a three-pointer to push Eudora's lead to 10.
That scoring burst, and three late free throws helped Eudora hold off Anderson County 41-33 Friday at Garnett.
"That was really huge," Eudora coach Todd Cossman said. "I really thought that killed Anderson County's momentum. I thought Anderson County was getting right back in the game, and we stopped them from ever taking a lead in the second half, and they really worked to get it back down to one. And I thought that run for us kind of hurt their momentum and really put us in a good spot the rest of the game."
The Bulldogs eventually cut the lead to six, but a basket by Sydney Schmille, and late free throws from Evan Folks and Anyssa Mays sealed the win.
Anderson County had numerous trips to the foul line late in the game, as the Cardinals were well past the 10-foul double-bonus limit. But the Bulldogs struggled from the foul line, and their lack of fouls benefited Eudora in the waning minutes.
"We fouled too much in the second half, and they didn't foul much," Cossman said. "And that kind of came back to help us in the end. They had to keep fouling and taking off clock."
Folks led Eudora with nine points and Lehmann added eight. Many of Eudora's field goals came via hustle on the offensive boards.
"That's how we're going to have to play to win games," Cossman said. "We don't have someone who is going to go out and score 15 or 18 points a game. We're going to be real balanced. I feel that's how we're going to play. We've got to go out and scrap.
"We tried full-court press, and ran a full-court man. But we really, really hustled hard. I thought our half-court defense was really good for the first game of the year. We did a really good job with our rotations, and did a good job of being in position."
Eudora also played Piper in the first round of the Paola Invitational Monday and lost 58-36. Eudora also fell to Turner 50-40 Tuesday in the second round.
Eudora will play Tonganoxie in the seventh-place game Friday at Paola.