That's classic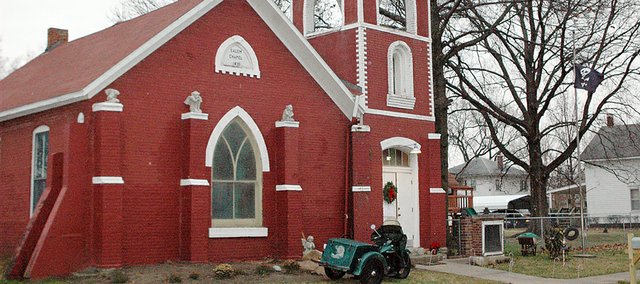 Mike and Lori Smith moved into Salem Chapel about two years ago and have quickly made it their own.
Built in 1870 and adorned with a steeple and stained glass, Salem Chapel looks like a church. But a closer look at the exterior reveals gargoyles perched on pillars and a pirate flag flapping in the wind.
The property was one of four homes on display Sunday as part of the Eudora Historical Society's Holiday Homes tour.
"I don't like restoration as much as I like preservation," Mike Smith said. "We bought the church because I love old buildings."
The Smiths have filled the old building with a basketball hoop, pool table and vintage motorcycles, gas station pumps and Coke machines.
But the most commented-on part of the house — the aforementioned Jolly Roger — is on the outside.
"I never had a flag pole in my life, and the pirate flag was the only flag we had when we moved in to the church," Mike Smith said. "Then, everybody was so appalled by it, I thought, "Heck, we're leaving that thing up there.'
"The flag gets more attention than anything else."
The unique features of the home are a good example of why the
historical society, which was founded in 1978, decided to organize the tour this year.
"There aren't that many historical houses in town so it's interesting for people to see them," said Leonard Hollmann, secretary of the historical society.
The Smiths said they plan to add a master bedroom and a kitchen on to the north side of the building within the next year.
The hardwood floor will be removed and a heated concrete floor will be installed to better heat the main room during the winter.
A garage also will be built to house 10 or so vintage motorcycles.
The last change that Mike Smith said he hoped to make was to raise the ceiling about 5 feet to make better use of the basketball hoop.
"Right now I can only shoot free throws," he said.
More like this story