Teacher of month enjoys students' progression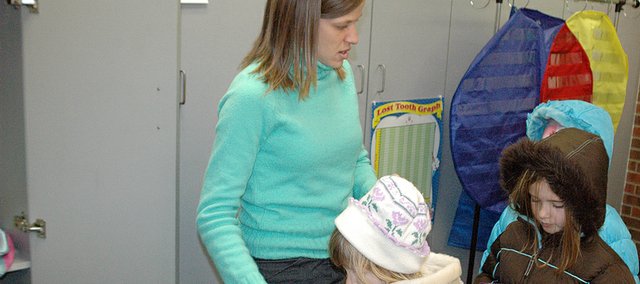 To hear kindergarten instructor Courtney Paul tell it, she's beginning to get the hang of this teaching thing.
But if you ask Jim Lauer, principal of Eudora West Early Childhood Family Center, the three-year teaching veteran is an integral part of the faculty.
"She's the chairperson of our school improvement team and she does a tremendous job with individual students as well as whole group learning," Lauer said. "She works really well in collaboration and she just brings such a positive outlook to work everyday, and that makes it easy to work with her."
Those attributes earned her the Eudora Chamber of Commerce's Teacher of the Month award for November.
Paul said she was pleased to be recognized for her work.
Paul, who grew up in a family of educators, was unsure of what she wanted to do with her life. She didn't want to teach because she wanted to do something different than her parents.
But after experiences volunteering in classrooms, she decided that joining the family business wouldn't be so bad.
Her first year wasn't easy, but she credits her success to her co-workers.
"The first year I just felt like I was going day-to-day to stay alive," Paul said. "But we have a good team that was very supportive and very helpful in giving me ideas. I feel like I'm starting to figure this out now, though."
Paul, who has a master's degree in curriculum and instruction, doesn't plan on going in to administration. That makes sense, as it would deprive her of her favorite part of teaching.
"When the students first come in, some of them don't know any letters, and then we're reading by the end of the year," Paul said. "I love to see that growth and transformation. I also like the energy that they have."
More like this story