Holding their own
Six Cardinals place at
EHS

Tournament of Champions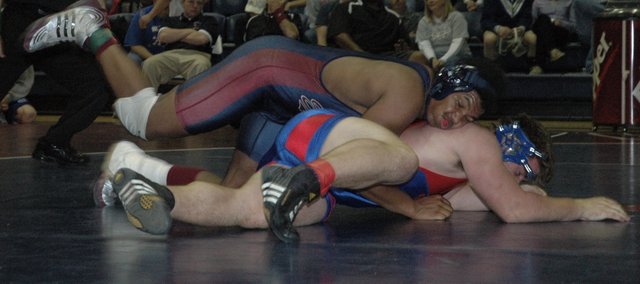 The Eudora wrestling team faced some of the best competition in Classes 4A-6A over the weekend at the Eudora Tournament of Champions. And the Cardinals showed they could compete with the best.
Six Cardinals placed in the top eight at the two-day, 22-team tournament. Boomer Mays placed third in the 215-pound weight class, Caleb Clayton-Molby fifth (189), Tyler Crowe sixth (152), Dalton Hladky seventh (140), Thomas McLees eighth (119) and Grady Salzman eighth (103).
Eudora finished the tournament in 13th and while EHS wrestling coach Jason Tharp said he was a little disappointed in the team's final place in the standings, he added that the experience his wrestlers gained over the weekend would help in the coming weeks.
"We think we have a pretty solid team, although we didn't show it fully this weekend," Tharp said. "I think going to these tournaments will help them."
For Mays and Molby, it was their first action of the season, as they were recovering from ankle injuries that happened in the football playoffs.
"They've only been practicing for a week," Tharp said. "And they're coming off those injuries. So you've got to be pretty happy with what they did. And they are nowhere near in shape yet. And no excuses, but they should have won every one of their matches because that's the kind of kids they are, and that's what we expect out of them. They did a pretty good job for the first tournament out."
Mays lost just one match in the tournament.
"That one match I wish I could have got back," Mays said. "But where I ended up it was all right."
Lansing placed first, Baldwin ninth, Tonganoxie 20th and De Soto 21st.
Tharp added that those who didn't perform quite like he had hoped would use the tournament as a catalyst for the rest of their season.
"We had some guys who wrestled well and had some guys who didn't wrestle well," Tharp said. "And that's part of the game. Being on every week is tough, and they've got to rebound next week at Emporia and hopefully get the job done."
Eudora will wrestle in the Emporia Winter Classic at 9 a.m. Saturday at Emporia. It will be the team's final meet before winter break.