Turnovers cost girls in loss to Prairie View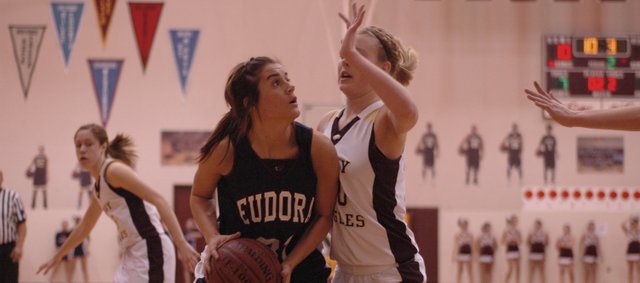 This isn't how the Eudora girls basketball team wanted to start Christmas break.
The Cardinals entered Friday's road contest at Prairie View on the heels of a turnover-plagued 15-point loss to Silver Lake. But once again, turnovers cost the Cardinals, and they fell 49-45 to Prairie View.
The Cardinals lost the turnover battle, 26 to 25, and were outscored 18 to eight in the fourth quarter.
Eudora also was out-rebounded in the contest. Eudora pulled down 23 boards but Prairie View had 26.
Eudora trailed at the half by three with the score, 25-22, but the Cardinals outscored Prairie View 15-6 in the third quarter to take a 37-31 lead heading into the fourth.
But Prairie View erupted for 18 points in the final period, and the Cardinals suffered their fourth loss in six games.
The Cardinals also shot a chilly eight of 21 from the free-throw line.
Senior Sydney Schmille scored 16 points to lead the Cardinals in scoring. Victoria Lehmann scored 10, Shea Lounsbury eight, Evan Folks seven, Katie Slavin two, and Jennifer Bowser scored two.
Eudora (2-4) will be off for Christmas break and will play its next game against rival Baldwin Jan. 8 at Eudora.
The Cardinals will then play Wellsville, De Soto and compete in the Tonganoxie Invitational.
More like this story