Going Green: Eudora Middle School starts winter break on a high note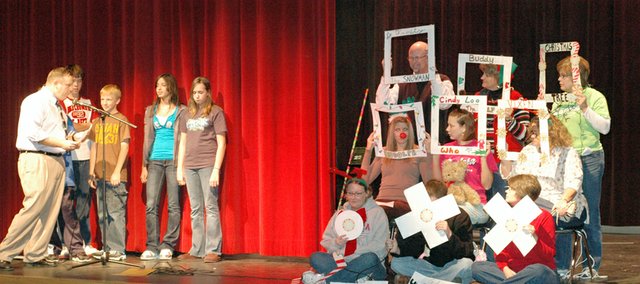 A new tradition at Eudora Middle School has become one of the best parts of the year for both students and staff.
The event, called the Hanging of the Greens, was dreamed up three years ago by then EMS activities director Phil Katzenmeier. It includes various performances and competitions, which consist of teachers competing against students and teachers or students competing against each other.
Health and physical education instructor Sondra Rauterkus took over duties of organizing the event this year.
"It's a fairly new tradition, and I love it," Rauterkus said. "It's a really good way to send off the kids with a good feeling."
Rauterkus said the teachers spend a few collaboration or plan periods planning the games and performances.
"You've had a lot of pressure building up through the year and to have something signal that release at the end is really great," EMS science instructor Dan Kuhlman said. "It's fun to put some things together and act a little goofy."
EMS Principal Richard Proffitt said the students have loved it each year and praised the teachers for taking the time to put it together.
Eighth-grader Alyssa Blaisdell said she looked forward to the event every year and she especially enjoyed getting to see her teachers let loose on stage.
"It shows that they have another side other than being a teacher," Blaisdell said.
More like this story