Coming back strong
Back injury not slowing Cardinal senior this year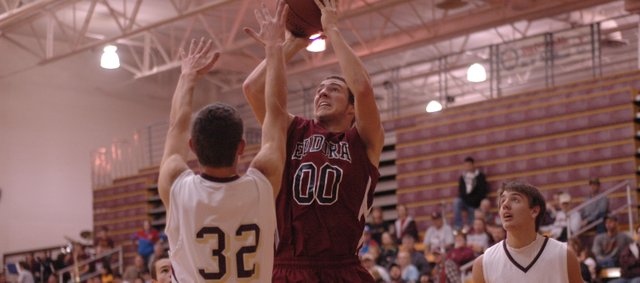 Coulter Vestal is making the most of his senior year at Eudora High.
After a back injury nearly ended his playing career a couple years ago, Vestal's back has held up this year.
"It's a lot better than it was last year," Vestal said. "I can move around a lot more than I could. And it hurts me still, but not as much as it did."
Vestal broke a vertebrae in his lower back while playing football at Lawrence.
"I remember feeling like a sharp pain go down my legs," he said. "It was just kind of like a tingling feeling, and then I got back up and somehow I got off the field and went and talked to the coaches and said, 'Something's not right. I can't really feel my legs that well.' It was like extreme pain from my lower back down."
Tests later revealed a break, and Vestal initially thought his career might be over. But through rigorous therapy, Vestal was able to play again. Vestal transferred to Eudora from Lawrence last year and played football. But his back didn't hold up well enough for him to play much. But this fall, doctors ordered Vestal to strengthen his abs, and he played a key role for the Eudora football team that went 9-3.
Vestal was the starting defense end and recorded 39 tackles, three sacks and had one fumble recovery. Vestal also was a tight end and caught three passes for 115 yards.

"I've always loved football," Vestal said. "I was really happy that I was able to play again just one more time before I go off to college, and the last time in my life. I'm really happy that my body was able to handle it, and I didn't get hurt again. But I was really pleased with how the season went and all the people and all the coaches."
Vestal also has made significant contributions to the basketball team this season. As a forward, Vestal has given the Cardinals a solid inside scoring presence to go with tough defense in the paint. He scored 16 and 12 in his last two games before break.
"Coulter has been a real positive influence on us," coach Kyle Deterding said. "He's one of our hardest workers and does a good job. He's staying healthy and that's helping him, and I think he's having some fun."
While Vestal has only attended the high school for two years, his family has lived in Eudora for about eight years. And Vestal said even though he's only worn the Cardinal red and blue for two years, he would be a Cardinal for life.
"It's been a change for the better coming here," Vestal said. "I love the people, and they all have my back, it feels like. I know if anything ever happens, they'll be there for me."