Firefighter of year recognized for reliability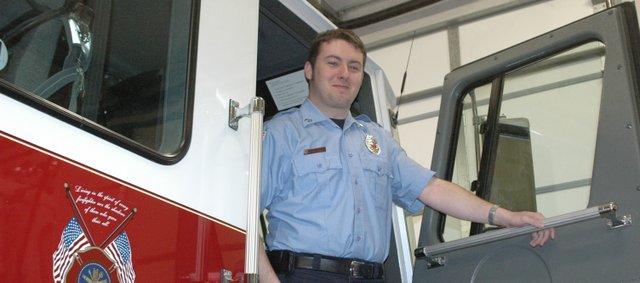 Eudora volunteer firefighter Aaron Evans has a deliberate way about him. It's not a need for an adrenaline rush or personal accolades that caused him to have one of the highest attendance rates for fire calls.
Simply put, he was trained to fight fires. So, when there's a call, he reports for duty.
"The initial shock of the pager wakes you up and then you start hearing what's going on," Evans said. "I feel guilty if I'm trained to do something and I don't do it."
His dependability was one of the main reasons why his fellow firefighters in the Eudora Fire Department voted him Firefighter of the Year for 2008.
"He's one of those quiet people, but you look around and he's always there," Fire Chief Randy Ates said. "If you ask anything of him he gets it done. He doesn't mind staying a little later and putting in a little extra effort."
Evans, who works as a network support specialist for Eudora USD 491, said he was honored that his peers voted for him to win the award.
He joined the department in 2006 after his co-worker Ron Long encouraged him to join, a recruitment Long certainly doesn't regret.
"He commits himself and he's passionate about it," Long said. "It's in his blood and so he puts a 110 percent into it, and it shows."
Although Evans didn't say there were any particularly rewarding calls, he said he hopes the department's existence provides community members with peace of mind.
"It's a win-win situation because we enjoy what we're doing and we can provide a service to the community," Evans said.
Evans also was given a "Bam-Bam" award, which is named for "The Flintstones" character who is unaware of his own strength. Evans was given the award after breaking a mallet during a training exercise.
In an example of the fun that is had in the department, his fellow firefighters presented him with the mallet and the award.
Evans encouraged others to volunteer and join in the camaraderie he has experienced.
"It's a pretty tight-knit group," Evans said. "It's introduced me to a lot of people in the community. We're all here for a common goal and even though we have varying backgrounds, we still have bond."